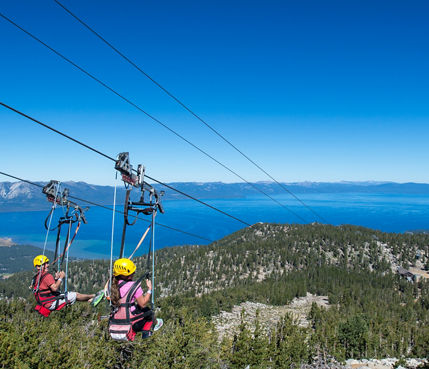 When the superb sunshine of a California summer melts all but the loftiest snows and makes Lake Tahoe sparkle, it's easy to understand how Heavenly got its name. The resort is a fun-filled outdoor playground all year, but many of the best things to do in South Lake Tahoe in summer are unique to the season. The spectacular High Sierra scenery enhances your summer adventure and entices you and your friends to spend every waking hour outdoors. So whether it's a quick weekend jaunt or a longer vacation, make sure your plans include some of the following Heavenly summer activities.



Go Sightseeing by Gondola

The number one attraction at Heavenly Resort in Lake Tahoe in summer is the Heavenly Gondola. It gives you access to trailheads, dining spots, and on-mountain activities, and the ride alone is one of the best things to do in South Lake Tahoe in summer. There's no other way to get such a spectacular bird's-eye view of the forested mountain slopes and their centerpiece – the stunning natural wonder that is Lake Tahoe.

Buy tickets and board the gondola in Heavenly Village. Board the fully-enclosed glass cabin and take in 360-degree views throughout the 2.4-mile journey up the mountain. Stop along the route at the Observation Deck, where you will also find Cafe Blue and Martin's Peak Trail. The final stop is the Top of the Gondola area, home to Tamarack Lodge and the hub of Heavenly summer activities on the mountain. At 9,136 feet in elevation, the views are unrivaled. The panorama spans both the California and Nevada sides of the lake and encompasses four alpine peaks over 10,000 feet.



Take a Heavenly Hike

Exploring trails accessible only via the Heavenly Gondola is always one of the top things to do in South Lake Tahoe in summer. The various trails from both the Top of the Gondola and mid-station areas range from 0.3 to 1.3 miles (one way), so there's a good option for all fitness levels.

Hiking trail openings depend on the season's snowfall levels, which can vary widely from year to year. Always check trail availability before pulling on your hiking boots! Take a look at the hiking trail map and check Heavenly's hiking page for details.

Easier hikes include the 0.3-mile Loop Trail from the Top of the Gondola and the 0.2-mile Martin's Peak Trail from mid-station. A longer, tougher hike is the Tamarack Trail, which is 1.3 miles each way with 584 feet of elevation gain. It features two amazing overlooks and leads to the highest point in the resort.



Adventure Activities at the Top of the Gondola

Some of the best South Lake Tahoe summer activities are at the Top of the Gondola — another great reason to ride up the mountain! Opening hours and availability vary by season, so call or check online before visiting the resort.

One of the most popular adventure activities at Heavenly in summer is the Granite Peak Climbing Wall, a 25-foot climbing wall with 15 different routes. Another is Gemstone Panning, a nod to the region's gold rush heritage. Of course, you get to take home any uncovered treasures as a souvenir. Other activities that might be available include summer tubing and the Ridge Rider Mountain Coaster. In 2023 Heavenly's signature summer experience is the Hot Shot Zipline.

Ask about Adventure Activity Passes or individual tickets at the ticket window in Heavenly Village. Closed-toe shoes are required for all activities; some have age and/or weight restrictions.



Take a Scenic Drive Around Lake Tahoe

Three highways – US 50, NV-28, and US-89 – connect to create a 72-mile scenic loop around the entire perimeter of Lake Tahoe. Driving the whole loop takes about 3 hours, but allow more time to stop at scenic highlights and do some exploring along the way. You could also pick one or two destinations closer to Heavenly Resort on Lake Tahoe for a shorter scenic drive.

Just a few highlights around the lake are Emerald Bay State Park, where you can see Fannette Island, and Crystal Bay, famous for the huge granite boulders dotting the lake's northeast corner. At Sugar Pine Point State Park, you can stroll trails among huge pine trees. Snap photos of the massive, curiously perched Balancing Rock at D.L. Bliss State Park. Other destinations around the lake include Kings Beach, Carnelian Bay, Tahoe City, Sand Harbor State Park, and Zephyr Cove.



Hit the Beaches

Lake Tahoe's shores include many public beaches, so beach days are always one of the top things to do in South Lake Tahoe in summer. You can laze on the sand or scramble over rocks, cool off with a swim, rent a kayak or paddle boat, and bring a picnic to enjoy in the sunshine.

You don't need to venture far from Heavenly Resort's spot on the southeast corner of the lake to find a great beach. One option close to the resort is Nevada Beach. Minutes from Heavenly, it boasts panoramic lake views and a pine forest backdrop. Connolley Beach in South Lake Tahoe has shallow waters ideal for wading. Regan Beach is dog-friendly, and El Dorado Beach has free parking.



Dine Outdoors

Dining at Heavenly isn't just for refueling – in summer, it's a delightful activity to do outdoors. Grab-n-go dining options on the mountain are Cafe Blue at the mid-station stop and Tamarack Lodge at the Top of the Gondola. Your choice of burgers, sandwiches, soups, and other casual fare will be immeasurably enhanced by the scenic setting.

Heavenly Village, plus the cities of South Lake Tahoe, California, and Stateline, Nevada, offer a range of outdoor dining options. So why not treat yourself to a meal or drinks at one of South Lake Tahoe's lakefront restaurants?



Summer Shopping Excursion

With select retailers open at Heavenly Resort in Lake Tahoe, over 40 outlets at The Shops at Heavenly Village, and even more options in town, shopping is one of the most popular things to do in South Lake Tahoe in summer. Pick up souvenirs to remind you of your amazing vacation or gifts for friends and family. Heavenly Sports and Gondola Sports at the resort are ideal for picking up any clothing and gear you need for your adventures on the mountain. So are big-name sporting goods stores like The North Face, Oakley, and Patagonia.




Ready for Summer Fun at Heavenly Resort Lake Tahoe?
There's a lot of planning to do before hitting the road to Heavenly Resort at Lake Tahoe, but now you can check "find South Lake Tahoe summer activities" off your list! To complete the rest of your summer vacation plans, visit
our website
.