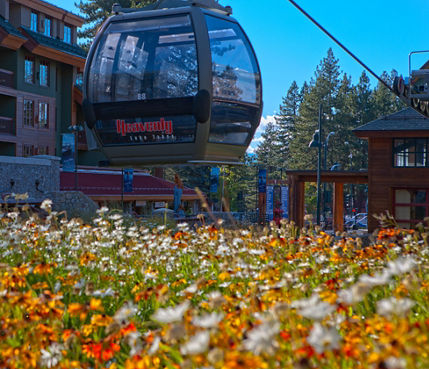 Outdoor adventures are waiting for you in and around South Lake Tahoe. While the activities and amenities of Heavenly Ski Resort can keep you busy, the spectacular wildflower hikes in South Lake Tahoe are not to be missed.

With a choice of trails adorned with stunning wildflowers, a hike in South Lake Tahoe is an ideal way to spend a day. Fortunately, five fabulous trails are easily accessible from Heavenly Ski Resort. Remember to practice Leave No Trace when hiking to see wildflowers in South Lake Tahoe.

1. Big Meadow Trailhead

Just a short drive from Heavenly Ski Resort, Big Meadow offers easy access to a picturesque hiking experience. The journey will take about two hours, as the meadow is 73.4 miles from the resort. Be sure to plan your trip so you have enough time to enjoy your experience.

The trail at Big Meadow stretches eight miles and suits hikers of all skill levels. Whether you're a seasoned trekker or a casual nature lover, this trail promises a delightful adventure. As you meander along, keep an eye out for the breathtaking wildflower displays that adorn the landscape. The trail is a canvas of nature's artistic prowess, from vibrant blue lupines to delicate, pale-pink columbines.

You'll experience amazement and serenity as the soft air rustles among the wildflowers. Big Meadow Trailhead is a must-visit for all nature lovers looking for a magical experience in Lake Tahoe.

2. Carson Pass to Winnemucca

For a scenic journey through breathtaking beauty that will leave you spellbound, head out to Carson Pass Winnemucca. You'll have ample time to get to the trail, enjoy it, and return to Heavenly Ski Resort for fun activities since it's only 28 miles away (a 35-minute trip).

When you arrive, a moderately difficult three-mile path will be waiting for you. Be on the lookout for various wildflower species as you travel the route since they cover the landscape. From vibrant Indian paintbrushes to elegant elephant heads, nature's floral wonders will leave you in awe.

3. Meiss Meadow

Meiss Meadow is a hidden gem that promises an exciting adventure and wildflower extravaganza. It's 32 miles from Heavenly Ski Resort, so you'll get there in less than an hour. Once you arrive, you'll have a moderate-level hike where you'll enjoy numerous wildflowers along the path.

With each step you take, the path will burst into life as different colors and fragrances become more evident. Some of the wildflower species you'll see include lilies and lupines. If you're looking for a scenic location to reconnect with nature, this is the place to be.

Since Meiss Meadow is close to Heavenly Ski Resort, you'll have enough time to enjoy tubing when you return.

4. Galena Waterfall and Mount Rose

When searching for the best wildflower trails in South Lake Tahoe, Galena Waterfall and Mount Rose are must-visits. Here, you'll admire beautiful wildflowers with a mountain or waterfall landscape backdrop.

As you begin your adventure, prepare to be captivated by the magnificent Galena Waterfall cascading down the rugged terrain. The trail unfolds through diverse landscapes, offering glimpses of awe-inspiring wildflower species.

Spanning five miles, the trail poses a moderate challenge, making it accessible to hikers of varying experience levels. As you ascend, watch for dazzling wildflowers, such as the delicate columbines and striking Indian paintbrushes. Each step brings you closer to the summit of Mount Rose, where panoramic vistas await, rewarding your efforts.

Galena Falls Trail and Mount Rose are a testament to the beauty and diversity of Lake Tahoe's wildflowers. Lace up your hiking boots, breathe in the fresh mountain air, and let nature's masterpiece unfold before your eyes.

5. Lake Forest Beach

Nestled on the shores of Lake Tahoe, Lake Forest Beach offers a scenic trail that combines the tranquility of the water with the vibrant beauty of wildflowers. This idyllic trail is perfect for nature enthusiasts seeking a leisurely hike immersed in breathtaking surroundings.

You'll only need to drive an hour to access the trailhead from Heavenly Ski Resort, as it's only 35 miles away. As you set foot on the trail, various captivating wildflower species will surround you. The path is adorned with nature's colorful tapestry, from the cheerful yellow and orange California poppies to scarlet fuchsia and yarrow.

The trail at Lake Forest Beach is considered an easy hike, suitable for all skill levels. Meander along the path as it winds through lush meadows and offers glimpses of the glistening lake.

The Lake Forest Beach walk offers a captivating retreat into the arms of nature, where wildflowers flourish in unison with Lake Tahoe's serene waves. Spend some time taking it all in, and you'll make memories that will last a lifetime.


Factors to Consider When Choosing a Wildflower Hike
When you venture out to view wildflowers along South Lake Tahoe trails, prepare for breathtaking landscapes and wildflowers out in the open or hidden behind outcroppings. Bring your camera to capture it all, and consider these factors when choosing wildflower hikes in South Lake Tahoe:
Altitude and climate variations: Different elevations and microclimates can impact the types of wildflowers you'll encounter.
Difficulty level and hiking experience: Assess your fitness level and choose a hike that matches your capabilities, whether you're an experienced hiker or a beginner.
Seasonal variations and peak bloom times: Wildflowers bloom at different times throughout the year, so plan your hike accordingly to witness the colorful displays.
Safety precautions and trail conditions: Ensure you have the necessary equipment, such as sturdy footwear and sun protection. Stay updated on trail conditions and potential hazards.
Considering these factors will help you make informed decisions and select a wildflower hike that suits your preferences, abilities, and the optimal bloom season.
Embrace the Wildflower Wonderland and Beyond
As you wrap up your wildflower adventure in Lake Tahoe, don't let the excitement end just yet. Heavenly Ski Resort offers a world of possibilities to continue your exploration.
Why not extend your stay and indulge in even more unforgettable moments? Discover the wonders that await at Heavenly Ski Resort and create memories of a lifetime.
Plan your next adventure at Heavenly Ski Resort and explore all the incredible activities and experiences that await you.
Visit our website today
and start planning your perfect getaway.