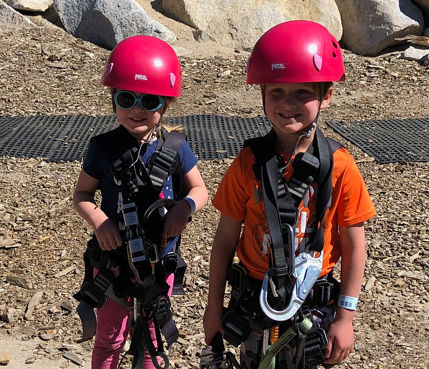 Lake Tahoe is a popular getaway destination that offers something for everyone, no matter the season, and can be found on the Nevada-California border. Families visiting during the summer can enjoy crystal-clear lakes and aquatic activities. Heavenly's snowy mountains offer skiing, snowboarding, and other winter activities.

North America's largest alpine lake, Lake Tahoe, offers beautiful views of the surrounding mountains and family-friendly leisure. Families can boat, fish, swim in the lake, hike, bike, and golf nearby in the summer. Skiing, snowboarding, ice skating, and snowshoeing are popular winter activities. Let's dive in and discover the perfect itinerary if you plan a trip to Lake Tahoe with children.

Snow Tubing

If you're looking for Lake Tahoe things to do with a family, perhaps no other activity draws as many visitors as snow tubing on the slopes at Heavenly Mountain Resort. Perfect for families of all ages, snow tubing is a must for things to do in Lake Tahoe with kids. The 500-foot track offers plenty of space for them to slide down the hill and enjoy the thrill of the ride.

There is also a mini tubing track for younger children, specifically those under 42 inches tall. The mini track allows even the smallest family members to join in on the fun. The excitement of gliding down the hill will have your kids squealing with joy as they experience the fun of snow tubing.

Sleigh Rides

Experience the magic of a family sleigh ride through the stunning pine forests and along the shores of Lake Tahoe. Don't forget to dress warmly for the private, narrated tour, which includes engaging stories, poems, and sing-a-longs sure to delight all ages. The charming jingle of the sleigh bells on the beautiful blonde Belgian horses will captivate children and adults alike, making the magical sleigh ride one of the best things to do in Lake Tahoe with kids.

Ridge Rider Mountain Coaster

If you're looking for an exciting and thrilling activity with your family in Lake Tahoe, look no further than the Ridge Rider Mountain Coaster. The gravity-powered alpine coaster is the perfect option for you. Enjoy a ride on the coaster through the beautiful forest and natural rock formations, and feel an adrenaline rush like no other. The views on this ride are breathtaking, and you will surely be left with memories that will last a lifetime. The alpine coaster sleds fit up to two riders, making it another one of the best Lake Tahoe things to do with the family.

Mini Golf

For a laid-back activity that goes at your own pace, the mini golf found in Heavenly Village is a perfect choice for kid-friendly activities in Lake Tahoe. Heavenly Village converts its ice skating rink into an incredible 18-hole miniature golf course during the warm summer. This summer, getting out into the clean air and having fun with kids of all ages and skill levels is a terrific way to spend time in Lake Tahoe.

Playing mini golf is fun and excellent for kids to enhance their hand-eye coordination, strategic thinking, math skills, and patience. Mini golf at Heavenly Village should be on everyone's itinerary as it's one of the best things to do in Lake Tahoe with kids.

Hiking and Biking

One of the best things to do in Lake Tahoe with kids is to get outside and explore the miles of pristine hiking and biking trails. Experience the stunning beauty of Lake Tahoe and its outdoor activities by taking a family bike ride along the Truckee River Legacy Trail bike path. Rent bikes and stop to swim in the swimming holes, or pack a lunch and enjoy a picnic at one of the many scenic spots along the way.

If you'd rather explore the area on foot, the hiking trails in Bliss State Park are unmatched for their easy access and skill level requirements. Take the Lighthouse Trail and walk a one-and-a-half-mile loop to see the tallest elevation lighthouse in the United States, Rubicon Point Light. The trail is a natural path and a gentle climb to the lighthouse, making it one of the easier Lake Tahoe things to do with the family.

Gondola Rides

A scenic Gondola Ride is an excellent option for families looking for a unique and breathtaking way to experience Lake Tahoe's natural beauty. The scenic gondola, located in Heavenly Village, takes you on a 2.4-mile journey through the Sierra Nevada mountains, providing breathtaking views of the lake and surrounding landscape. This gondola ride will surely be a highlight of your trip, whether you're heading to the slopes for downhill skiing, tubing, or just looking to enjoy the scenery.

Take your camera with you as you ride the gondola up the mountain to capture the breathtaking views. The gondola carries you to an observation deck with panoramic views of Lake Tahoe and the surrounding mountains. The Deck is ideal for taking memorable family photos and genuinely appreciating the area's natural beauty.

Discovery Day Camp

Heavenly Mountain Resort's summer kids camp program is designed to provide children ages 5 to 12 with an unforgettable day filled with nature, exploration, adventure, and fun. Kids will spend the entire day exploring the great outdoors and participating in various exciting activities such as gondola rides, ropes courses, scavenger hunts, relay games, and wilderness survival activities, all led by experienced camp leaders. The program is open from 9 a.m. to 4 p.m. and is another great thing to do in Lake Tahoe with kids.


Plan Your Next Ultimate Lake Tahoe Trip with Kids
If you're looking for things to do in Lake Tahoe with kids, look no further than Heavenly Resort in Lake Tahoe. The resort offers many activities for families of all ages, including ice skating, mini golf, snow tubing, day camp, and miles of hiking and biking trails. Explore the beauty of Lake Tahoe and make your next trip magical at Heavenly Resort.