Heavenly has something for every taste.
Dining at Heavenly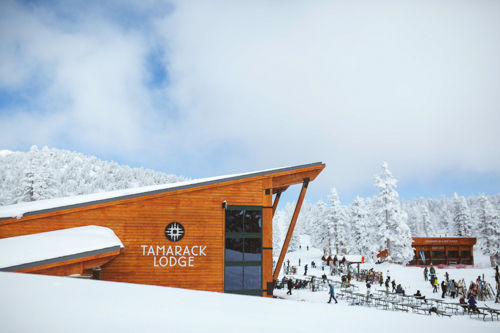 Mountain Dining
Keeping you properly fueled is key to a great day on the mountain, and we're passionate about bringing you a variety of dining options to make that happen. Due to local restrictions on capacity limits, we highly recommend that guests bring their own snacks and water. Our quick service restaurants will be open and we've made necessary changes with your safety in mind.
Our commitment to safety continues to be at the center of everything we do, so as we welcome guests from around the world this season, our COVID-19 policies are focused on the indoor experience at our resort. Before you head to one of our dining establishments, please read through updates to our safety and dining policies.
DINING AND VACCINATIONS: Guests ages 12 and over will be required to show proof of COVID-19 vaccinations to dine at our indoor, cafeteria-style restaurants. Adults 18 and over will also need to provide a photo ID. Government issued IDs with a photo and name matching the guest's vaccination card will be accepted, as well as Epic Passes with photos.
Guests can provide proof of vaccination by showing:
A physical vaccination card
A photo of a vaccination card on their phone
An official vaccination mobile app, including all official U.S. state, European Union and foreign country mobile apps, digital passports and digital certificates; and the following third-party vaccination mobile apps: Clear Health Pass, IATA Travel Pass App, Verifly, VaxYes by Gogetdoc, and CommonPass
The following vaccinations recognized by the World Health Organization will be accepted: Moderna, Pfizer-BioNTech, Johnson & Johnson/Janssen, Oxford-AstraZeneca, Covishield, Sinopharm and Sinovac. This is currently the only part of our experience that will require proof of vaccination, unless required by local public health.
Our restaurants that will require proof of vaccination include:
Tamarack Lodge
California Lodge
East Peak Lodge
DINING RESERVATIONS: Like last season, guests will be encouraged to book a reservation to eat at many of our on-mountain restaurants using our Time to Dine reservation platform. Reservations will open one day prior via the Dining Reservation page, the EpicMix app or through QR codes located on-mountain. Click here to learn more and make your reservations.
DINING POLICIES:
We strive to provide a variety of dining options for all of our guests who wish to dine with us. In order to accommodate the high volume of customers our restaurants serve, we ask you to observe the following dining policies:
All tables and seats will be available for present guests only. We ask that guests please do not hold tables.
All tables have a time limit of 45 minutes.
There is no storage of personal belongings in our restaurants or lodges unless in a designated locker or cubby area.
Catering or communal food for large groups is not permitted. Individuals and small groups are permitted to bring in their own food.
Holding multiple tables for large group dining and outside parties is not permitted.
Category
Restaurants
Indoor Dining with Vaccination Proof & Reservations Needed


Tamarack Lodge
California Lodge
East Peak Lodge

Quick Service/
Outdoor & Indoor Dining

Steins
Sky Deck
Stagecoach Lodge
Boulder Lodge

Closed for Public Dining
(Winter 2021-22)