A Definitive Guide To The Best Lake Tahoe Ski Resorts
There's no place like home. For us, that's Lake Tahoe, and picking the best Lake Tahoe ski resorts feels a little bit like picking your favorite child. It might feel a little wrong, but we're going to do it anyway.
There are more than a dozen ski areas in the Lake Tahoe region, each with its own unique charms and attractions. Some exist as a safe haven for beginners the first time they strap on a snowboard. Others offer gnarly, ski-movie-worthy terrain that gets the adrenaline pumping in even the most advanced skiers. All of them get sunshine more than ¾ of the year and frankly, there's nothing quite like a Lake Tahoe powder day.
From our perspective, it's a three-way tie for the best places to ski in Tahoe, a #TahoeTrifecta, if you will.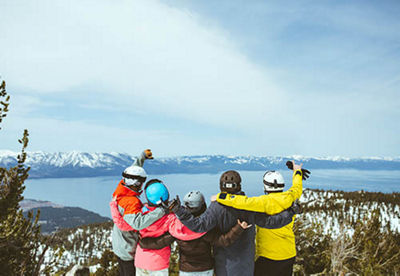 Heavenly Mountain Resort
When you want to mountain together, there's no better place than Heavenly Mountain Resort. Heavenly is the big, eclectic, rad leader in Lake Tahoe skiing. From panoramic views of North America's largest alpine lake to a snowcat-turned-DJ booth that keeps energy high from first chair to last, Heavenly has something unique at every powder-coated turn. Spanning across the California-Nevada border, skiers, riders, sledders and winter enthusiasts can enjoy both states on the same day.
Some say size doesn't matter, but with 4,800 skiable acres, we're the largest ski area in Lake Tahoe. We also have the highest peak elevation in Lake Tahoe at 10,067 ft. with 3,500 vertical feet for shredding—unmatched on the West Coast. And with an average of 300 days of sunshine, there's no better place to ski in Lake Tahoe than Heavenly.
To catch the most sunshine, start your day on the Nevada side of the mountain. Make your way up Kingsbury, then Stagecoach and finally all the way up Olympic to soak in the morning rays. Throughout the day, work your way toward California alongside the sun. Enjoy the Golden State-side of Heavenly. And of course, you can end your day in the sun at Lat 38 for happy hour. (For more insider tips, you can follow our experience checklist.)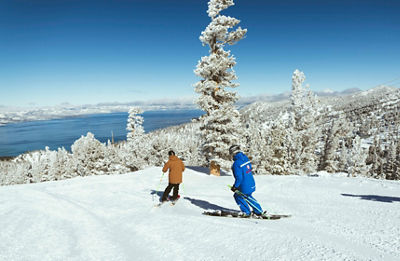 Runs For Beginner Skiers & Riders
Heavenly is the perfect place to learn to ski or hone your skills. We offer ski lessons for all ages. As a bonus, it's the perfect way to get to know the mountain and all the best runs. If you're ready to just dive right in, start your day on Easy Street. You can access this run from the top of the Gondola, so you can see all the beautiful views even as you're getting your ski legs under you. You can also check out the Enchanted Forest, Patsy's or Maggie's runs. You'll be ramping up to intermediate terrain in no time!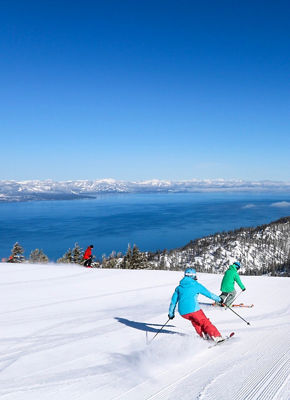 Runs For Intermediate Skiers & Riders
Heavenly's longest ski run, Olympic Downhill, will keep you smiling all day long. At 5.5 miles long, it's the perfect spot to grab your tuck and flex your ski muscles. Take a right off of the top of Olympic Express and practice your carves, turns, and poses on this consistently medium-steep pitch to the base of Stagecoach Express. Everyone in your crew should try to shred down Ridge Run to take in the sweeping views of the lake. We're pretty sure you'll be lapping on the Sky Express chair and never be bored.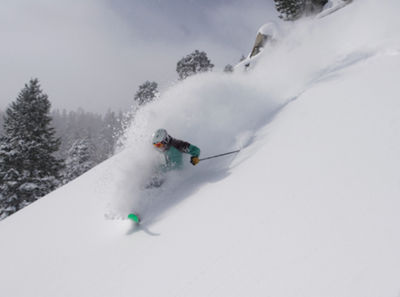 Runs For Expert Skiers & Boarders
Explore areas like Mott Canyon, Gunbarrel and the Milky Way Bowl. There you'll find steep chutes, moguls and untouched powder. The locals and lifties know these are the places you go to experience a different side of the mountain.
Things to do (Without Skis On)
We know you're interested in the best places to ski in Lake Tahoe, but Heavenly offers so much more than magical, mystical, miraculous slopes. You can mountain together with your whole crew—whether they pizza, french fry or strictly prefer to tube.
Things to Do in Tahoe

, opens in a new window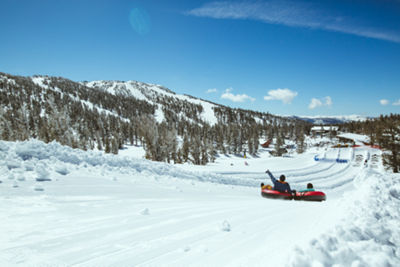 Experience Tubing & Mini Tubing in South Lake Tahoe
Five-hundred feet of freedom—that's what awaits at our tubing hill. Anyone over 42 inches tall can experience tubing while children can enjoy the mini-tubing experience that creates big memories.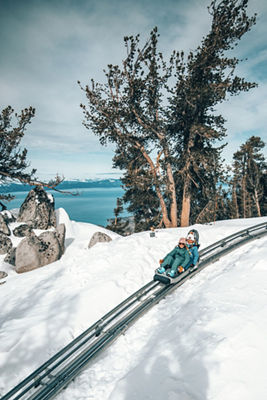 Ride Down the Alpine Mountain Coaster
Our alpine coaster is not your average attraction. Fly down the gravity-powered track that overlooks the icy blue waters of the lake. It's a non-stop delight from start to finish, and for $45, you can ride it all day long.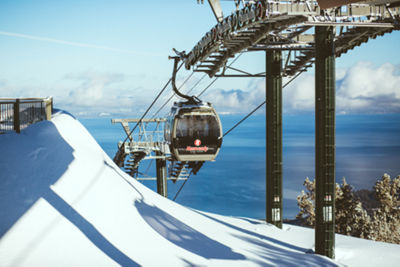 Take a Scenic Gondola Ride
Our gondola gives you access to breathtaking views and some of the most Instagram-able spots in Lake Tahoe. At the top, you can grab a creamy hot cocoa at the Tamarack Lodge and breathe in that refreshing high-elevation air.
Our sister resort, Kirkwood, offers an escape from the average—tucked 35 miles away from Lake Tahoe. Sure, it's remote, but that means you can get one of the most authentic ski experiences in the region. Nestled in a remote part of the Sierra Nevada, Kirkwood offers a pure mountain escape that energizes your heart and liberates your spirit. It is a true sanctuary for freedom seekers and adventure families.
Known as "The Wood", the ski area offers 2,000 feet of vertical drop and over 2,300 acres of terrain ranging from calm, groomed, beginner runs to hair-raising cornices and cliffs. If you want to get technical, here's the breakdown in Kirkwood's terrain: 12% beginner, 30% intermediate, 38% advanced, 20% expert. Don't let the percentages fool you, this mountain offers the best learning terrain in the state, with secluded runs and guided learning to take your whole family to the next level.
Beyond the incredible natural terrain and backcountry skiing, Kirkwood features two parks. The Bandit Terrain Park welcomes beginner level shredders to try boxes, jumps and rails. The Outlaw Park takes things up a notch for intermediate level skiers and snowboarders. With features from GoPro, you'll find a collection of jumps, boxes and rails that'll keep you showing off your skills from first to last chair.
Community and family define this resort, and that really shows in their annual Kirkwood Deep Riders Awards. It's an annual film festival paired with an award show to announce and celebrate award winners. From "Female Rider of the Year" to the "Family That Shreds Together" to "Backcountry", there's no better way to get to know The Wood's regulars and get stoked for the season.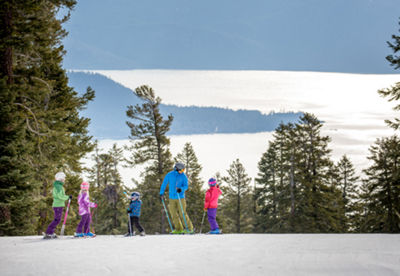 Northstar California Resort
Northstar California Resort is where s'mores and champagne belong on the same menu; where relaxed and easy going meets luxury. Located on the north side of Lake Tahoe near Truckee, California, the third prong of the #TahoeTrifecta offers unique conveniences and delights like the aforementioned 4pm s'mores as you sit by cozy fires in the Village as well as the 2 p.m. champagne toast at Tōst. (Pro-tip: Be sure to get in line before 1:30 p.m for the champagne toast. It's very popular!)
But it's not just about accessing all the extras at Northstar. Northstar sits on Mount Pluto, an extinct volcano. Two million years ago, its lava and mudflows dammed what we now call Lake Tahoe and left us with the unforgettable terrain we know and love. The mountain itself will keep you, your friends and your family endlessly entertained. That's what makes it one of the best places to ski in Lake Tahoe.
If alpine skiing's not your thing, you can head to the 3,170-acre cross country center for snowshoeing and nordic experiences. The Village at Northstar offers plenty of fine dining and family-friendly activities such as ice skating, live music, movies and candle making. You can even bring your dog along for your trip. Northstar's village is dog-friendly (though you can't take them up the chairlift with you)!
Northstar Bucket List
Enjoy a complimentary Tōst off of East Ridge Run, every day at 2pm. *Local tip, arrive early!
Hike up and race down our Village tubing area off of the Overlook.
Make your way to the ice skating rink at 4pm for daily, complimentary s'mores.
Experience a Platinum First Tracks event and have the mountain to yourself an hour before it opens to the public.
Rent snowshoes from the Cross Country Center and take a hike out to Sawmill Lake.
Sip on a 'Dirty Snowman' from the Rink bar while you warm up by the fire pits.
Reward yourself with Bourbon Pub nachos after an active day on the mountain.
Make time for self-care with a spa treatment or yoga class at Tahoe Yoga and Wellness.
Enjoy ice skating, treats and complimentary face painting around a fire pit while our DJ spins your favorite tunes for Friday Fun Nights.
Pop-in to Copper Lane's 'Sushi Pop-Up' every Tuesday and Wednesday this Winter starting at 12pm.
Come sample a few unique, mouthwatering s'mores inspired recipes on select Saturdays for S'moresapalooza.
Warm up by TC's Tap House cozy fireplace with our classic Moscow Mule in hand.
Sit back and relax with some fresh popcorn as you watch a film at the Village Cinemas.
Buy Northstar Lift Tickets

, opens in a new window
You might be wondering: What's the best way to check out all these amazing resorts in Lake Tahoe? Good news! You can ski all three #TahoeTrifecta resorts with one lift ticket. When you purchase a lift ticket with 3 or more days at Heavenly, you can use the days at Kirkwood and Northstar as well.
And why stop there? When you buy an Epic Pass, you can access a global network of resorts. Head to Vermont to drink craft beer and ski at Stowe. Head down under, visit the kangaroos and ski at Hotham. You can even fly across the Pacific Ocean to Japan for sushi and fresh powder resorts like Hakuba Iwatake Snow Field