Must-do's for your time at Heavenly
Heavenly's Signature Experience Checklist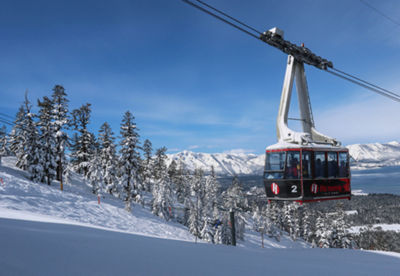 Powder Then Bumps . . . All Morning
Morning on The Face
At the base of the California Side the Heavenly Tram awaits the early riser. Show up well before lifts open to share some laughs and stories with the locals, then catch the first ride up on the tram. You'll see the majority of the tram's riders grab their gear and head down Patsy's, but not you. You are on a mission.
After unboarding the Tram you are going to turn around and ski right down The Face. This is a list of ultimate experiences, so it snowed the night before. The Face is steep and meant for deep POW. Keep your mouth closed and don't forget a couple powder hoots.
After you make it down, hop back on the Tram or Gunbarrel lift. Now you get the drill. When you've done a few runs, the whole experience changes. The Face turns into a world-class bump run. Stay limber, keep your hands in front of you, and your eyes up because the rest of the morning is all bumps and descents. Do this until noon and your legs will tell you why this is such a badge of honor for Heavenly skiers and riders.
A Full Day in the Sun and on the Snow
Follow the Sun
Heavenly is BIG. There is a massive variety of terrain in difficulty and features, but also slope direction. This is something skiers and riders pay attention to without even knowing it because as the sun moves east to west across the sky, it hits different slope directions throughout the day.
At a diverse mountain like Heavenly you can use the sun as a day planner and ski or ride in the sunshine all day long. Luckily the sun's path is fairly predictable so we're able to outline a path for you before you even slip into your boots.


1) Apply Supergoop Sunscreen: You're about to chase the sun, prepare accordingly
2) Start in Nevada: If you are staying at the top of Kingsbury, load Stagecoach Lift and and head up to the top of Olympic. You'll be basking in the morning sun and avoiding the lift lines at the same time.
If you are staying closer to the Heavenly Village and planning on riding the Gondola up to start your day, hop on Tamarack Lift then hang a left and ski down to East Peak to access Dipper Lift. Orion run will be lit to perfection so have your friends take a picture of you as the sun highlights your perfect downhill form.
3) Hit Comet Chair for a late morning run or two. As you continue your kinship with the sun, enjoy a run on Comet or Aries. Then hop on Comet again and plan on taking 49'er down to the Tamarack Lodge area.
4) Decide on Lunch: Now there are several factors that go into lunch planning. How fast did you accomplish the first steps in this epic solar chasing plan? Are you looking for some shelter inside or want to continue basking? Maybe you just aren't ready to stop skiing.
So either you are pretty hungry, want to get inside and take off the goggles, or just need to rest the legs. Stop at Tamarack Lodge and head inside for some shade and delicious food and drink.
Or you don't need food quite yet, you want to eat outside and enjoy the mountain air, and the ole' legs can stand another run or two. If this is the case, head up Tamarack lift and take California Trail over to the Sky Deck for some lunch in the sun.
5) Re-Apply the Supergoop sunscreen.
6) You're full of delicious mountain nourishment. You've told a few jokes with your friends. You've embellished your ski accomplishments a bit. You're ready to get back on the snow. Hop on Sky Express Lift to the top of Heavenly at 10,040 feet. You've timed this perfectly, so take out the camera and get a few epic shots of you and your fellow sun travelers with the epic lake background on top of Ridge Run.
7) Explore the California Side of Heavenly for the remainder of your day. And maybe the best part, you can end your day with a happy hour beverage at Lat 38 on the roof of the California Lodge.






A Unique Spot with a Different Offering
Get a Beer at Steins
On the California Side, nestled at the base of Powderbowl Express, Patsy's, and Groove Lifts sits Steins. Heavenly's unique spot for brats and beers. Partake in a savory sausage laid in a pretzel roll and a Oktoberfest brew. Sit under the umbrella and share stories with the locals around the large circle bar or grab an Adirondack chair on the snow beach and people/skier watch (that guy needs a lesson).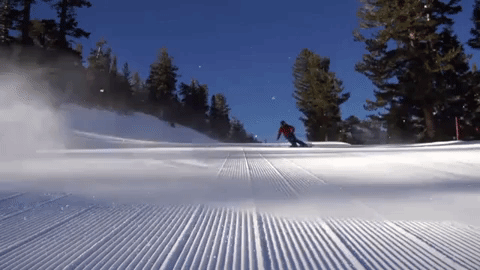 Perfect. Long. Turns
Ski Olympic Downhill
You've watched the Olympics. You may have even tucked and punched through doorways like they were racing gates. Skiing or riding downhill is fun. . .Skiing or riding downhill longer is more fun. It's what our statistics teachers would have called a positive, direct correlation.
Olympic Downhill is Heavenly's longest ski trail, measuring at 5.5 miles. Take a right off of the top of Olympic Express and practice your carves, turns, and poses on this consistently medium-steep pitch to the base of Stagecoach Express. You will have traveled nearly 2,000 vertical feet, in the fun direction. Feel free to raise your hands and pretend you just medaled at the Olympics at the bottom.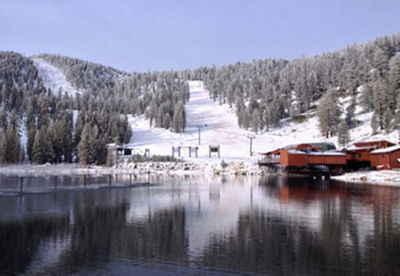 Lunch with Local at East Peak Lodge
So ski vacations are something we look forward to. Spending time at high altitudes in small alpine communities that are centered around a recreational activity is refreshing. But eventually there comes a time when it's time to head home to the comforts of less harsh environments. Time to wake up in the morning and not have to shovel feet of snow off of the sidewalk.
BUT, there are people who spend their lives in this environment. The ski town local. Yes there are some stigmas that follow this group; but no matter these notions, they are fun to chat with over a meal and a beverage on the mountain.
During the middle of the ski day, head over to East Peak and ask if you can join that group of friends that aren't using a couple of the chairs at the table. Chances are they are around the Star Bar and some of them may even be part of the Mug Club. Tell them where you skied that morning … ask them what they love about it here … brag about having a garage and fresh fruit at home. Enjoy each other enjoying the mountains.