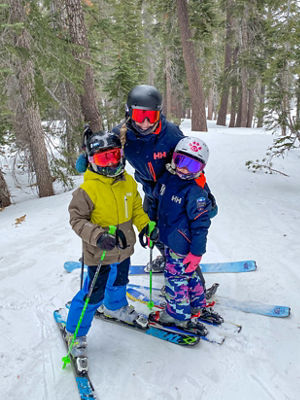 Team Member Spotlight Q&A: Katie Ficeto
Q: Hi Katie! Can you tell us a little bit about your role at Heavenly, and how long you've been here?
A: This summer will be 7 years at Heavenly for me! I have worked in many different roles within the Marketing department over the years. Currently I am the Marketing Manager, running point on events and everyday guest experiences.
Q: What inspired your career path?
A: My passion for skiing and marketing. It has been a dream come true to market and advertise a sport I am passionate about to others. I love bringing this sport to new people and being able to promote how beautiful Heavenly is! Combining my advertising and marketing background, plus the ability to work at a ski resort means the world to me. I feel blessed to be in the place and role I am today!
Q: What are some of the responsibilities you have that might surprise people?
A: Creating and printing the winter trail maps.
Q: What do you love most about your job? And about Heavenly?
A: What I love most about Heavenly is the people who work here and the culture at the mountain. What I love most about my job is seeing the events that I work on for months come to life and seeing guests enjoying themselves. I also love seeing our Go to Market (GTM) campaign come to life!
Q: What unique or special skills are needed to do your job?
A: Multi-Tasking (!!) and co-worker relationships. I can't do my job without the support of every department on the mountain.
Q: What or who inspires you most?
A: My mom and my kids inspire me the most in life. My mom is my hero and I strive to live every day like she does; to enjoy life and be kind to all. My kids inspire me to work hard in life. I want to show them that you can work hard, provide for your family and love your job at the same time! My kids are my true inspiration in life!
Q: What has been your favorite part of this ski and ride season so far?
A: The skiing! The snow and conditions - either on a powder day in the woods or some fresh groomers - has been amazing skiing this season! I love going out to ski with my kids and friends as much as possible. I also loved working on and executing the MSP (Matchstick Productions) photo shoot this season!
Q: What is your favorite event that you plan?
A: The Pond Skim!
Q: Do you have a favorite run at Heavenly?
A: On a blue bird groomer day, Boulder Chute and Ridge Run. On a powder day, Hogsback, the trees under Sky Chair and East Bowl Woods.