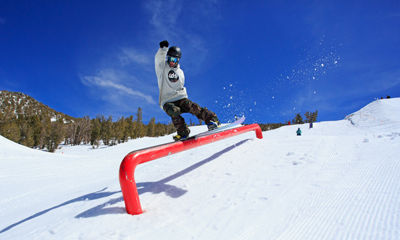 While it's easy to get wrapped up in fun within our terrain parks, it's important to remember the role of safety and proper use. See our Mountain Safety page to learn more about our terrain park safety rules.

For more information, go to terrainparksafety.org or nsaa.org

Freestyle terrain may include half-pipes, terrain parks and terrain features. They are provided for your enjoyment to offer adventure, challenge and fun. However, freestyle terrain use, like all skiing and riding, exposes you to the risk of serious injury or even death.

Prior to using freestyle terrain, it is your responsibility to familiarize yourself with all instructions and warnings, and to follow the Responsibility Code as well as park

Four Main Points of Smart Style
Make a Plan
Every time you use freestyle terrain, make a plan for each feature you want to use. Your speed, approach and takeoff will directly affect your maneuvering and landing.


Easy Style It
Know your limits and ski/ride within your ability level. Look for small progression parks or features to begin with and work your way up. Freestyle skills require maintaining control on the ground and in the air. Do not attempt any features unless you have sufficient ability and experience to do so safely. Inverted aerials increase your risk of injury and are not recommended.


Look Before You Leap
Before getting into freestyle terrain, observe all signage and warnings. Scope around the jumps first, not over them. Use your first run as a warm-up run and to familiarize yourself with the terrain. Be aware that the features change constantly due to weather, usage, grooming and time of day. Do not jump blindly and use a spotter when necessary.


Respect Gets Respect
Respect the terrain and others. One person on a feature at a time. Wait your turn and call your start. Always clear the landing area quickly. Respect all signs and stay off closed terrain and features.