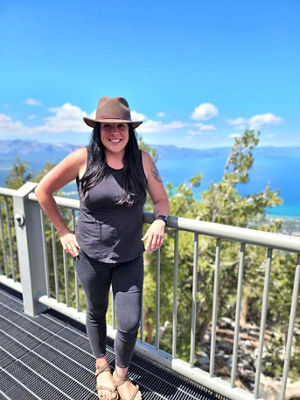 Q&A with Erica Reese:

Q: Hi Erica! Can you tell us a little bit about your role at Heavenly, and how long you've been here?
Hey there! I moved to South Lake Tahoe in 2018 and have been part of the Vail Resorts team since 2011. I moved to South Lake Tahoe from Fontana, Wisconsin, where I led the Wilmot Mountain integration. Prior to that, I joined the Vail Resorts team at Mt. Brighton, where I started my career in the industry as a ticket seller. Since then, the opportunities have been endless!
Currently, I am the Senior Product Sales and Services Manager at both Heavenly and Kirkwood. I oversee ticket, pass, and ski and ride school sales and work closely with all departments to ensure we are delivering the best guest experience. I am also a member of our Diversity, Equity & Inclusion leadership committee, and our Employee Experience Street Team. Additionally, I am a Work Force Management resort co-captain, a recent graduate of Leadership Lake Tahoe class of 2022 and sit on the South Lake Tahoe Board of Directors as a Vail Resorts representative.
Q: What inspired your career path?

I grew up learning to snowboard at Mt. Brighton and always had a fascination with snowboarding and the industry. When I was 22, I packed my car and moved to Boulder, CO to attend CU Boulder, and eventually transferred to The Art Institute in Denver. During my time in Colorado, I traveled to Breckenridge as often as I could. I even met my husband in Breckenridge, we both worked at the crepe stand!

Truly, what inspired my career path was the amazing folks I have met along the way and providing unforgettable experiences to guests that visit our resorts. How cool is that! We have the privilege of being part of a person's first experience on a mountain, in both summer and winter. We get to introduce folks to a lifelong sport, and maybe even a new passion.

To me, the best feeling is when someone is joining us at Heavenly or Kirkwood for the first time and they come back to us feeling energized and fulfilled after skiing or riding one of our unique runs, or seeing that awe-inspiring view of Lake Tahoe or the Carson Valley. I always think to myself- this is where we live! This is a community and sport we are so lucky to be a part of.

Q: What are some of the responsibilities you have that might surprise people?

Overseeing the Product Sales and Services departments at both Heavenly and Kirkwood entails working with several lines of business; cross functionally in-resort and with Vail Resorts' western region leaders. Our departments are the first the guest comes into contact with, whether that be at our ticket windows, in our pass office, through our call center or checking in for a lesson. Our department also falls under the umbrella of skier services, which means we work extremely closely with Ski and Ride School, Greeter Host and Ticket Scanning teams. I also collaborate weekly with product sales leaders from Whistler Blackcomb, Steven's Pass, and Northstar to ensure we are aligned and share best practices.

Q: What are the various roles your team members have? What should guests know about what goes on behind the scenes?

In our department, we wear a lot of hats. We really see it all! Our team is well versed in offerings at Heavenly and Kirkwood as well as what is available in the village and South Lake Tahoe events.
We are constantly looking for ways to improve. The number of customer interactions that happen via phone or email, plus the amount of preparation we do in an attempt to create a great guest experience when arriving at the resort would surprise some. We also have a weekly guest experience meeting to discuss comments and feedback that our visitors provide. Our goal is to communicate effectively and provide a seamless experience for our guests. From a more general ticket and pass perspective, our department is continuously improving, from technological investments in express lift ticket pick up to mailing season passes in a timelier manner. Our goal is to get folks on the mountain faster!

Q: What do you love most about your job? And about Heavenly?

I love the folks I work with. Our passion for what we do is apparent from the top down.
I have to say, I also love the fact that our team is always looking to improve. There is always an opportunity to not only improve the guest experience, but our employee experience as well.

Q: What or who inspires you most?

I am inspired by my family, my husband and the beautiful place we live. I am inspired by the community we are a part of and all they do to make South Lake Tahoe a better place. I am inspired when I am serving others, whether that is my family, team or our guests. Our jobs have a purpose. I am so proud of our Heavenly team and everything we do for our community and employees.

Q: What's your favorite summer activity and ski run at Heavenly?

In the summer, my favorite activities are the Mountain Coaster and sightseeing at the mid-station. It is always fun to take friends or family up the gondola for the first time and take in that breathtaking view! In the winter, I typically start my day at Stagecoach, do a few laps on Olympic downhill, then make my way over to East peak for lunch and a few runs off of Dipper. Throughout the day I am usually trying to keep up with my husband Joel, to be honest!

Q: Anything else you want to share?

I am just so grateful to be part of a team of amazing people who truly care about what we do.