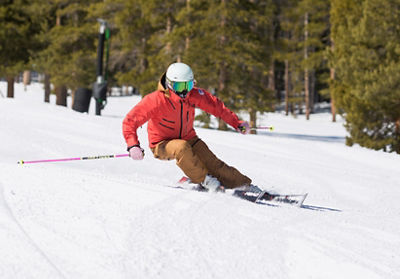 Q: Hello, Robin! Can you tell us about what you do at Heavenly?
A: I'm glad you asked! Some people sell; some people write; others cook…but I people! Sometimes, I people in front of a computer. Sometimes, I people in my office. Other times, I people on a chairlift or on a run overlooking the lake. That might sound like something out of a Dr. Seuss story, but in my role as Director of Skier Services, I am lucky enough to interact with employees and guests from all around our resort. It's these interactions that I value and these interactions that help us all get things done -- Peopling!

Q: What are your key responsibilities?
A: I am ultimately responsible for the adult and kids Ski and Ride School, Scanning, Guest Information, Day Care and Competition Teams. That seems like a lot, but with leaders like George Fish, James Kayser, Chris Barber, Jolena Hearn, and Cassidy Simpson at the helm of those departments, it is a privilege and a joy. They are a dedicated, talented and caring team.

Q: What might surprise people in terms of what you do every day?
A: I open my office window every day to talk with employees and guests. It's fantastic to see all of the kids coming and going from their lessons with their parents, and employees starting or finishing their days. It's a benefit to be able to say hello, help someone, or thank someone in what feels like a comfortable, "homey" space. Come by my window at the CA Base Lodge and say hi!

Q: What inspired you to take the career path you have?
A: I taught and coached skiing for many years. I have always loved being able to connect with others and learn from them. Each step that I take in my career brings me to a place where I see more doors in front of me and more options to open those doors, allowing me to grow and learn. I've spent so many years at Heavenly – this community is near and dear to my heart. When the Director of Skier Services position opened, I was thrilled about the opportunity to take on a bigger role, create an impact and serve both our employees and guests in a new way.

Q: What do you love most about your job? And about Heavenly?
A: Skiing. Community. The ability to positively impact employees and guests. Challenges. Team. Working with leaders who genuinely care. Being able to stick my boots on and be at the top of Sky Chair in 15 minutes!

Q: What unique or special skills are needed to be in a role like yours, or like those on your team?
A: This role requires an interesting balance of paying attention to details and stepping back to see and lead through a bigger picture. I enjoy juggling those two things. Most of our team in Skier Services is guest-facing all day long. That takes a special skill-set to stay upbeat, positive, courteous, answer questions, and be helpful all day long. Those who do it absolutely love it and cannot imagine a different job.

Q: What advice would you give someone who wants to take a similar role or path as you one day?
A: Set goals, pay attention to others around you, work hard, take some risk, always pause to appreciate the beauty around you, and – of course – be you.

Q: What's one thing you wish guests knew before coming to Heavenly?
A: I recommend arriving early, having breakfast in the cafeteria, and getting your day started in a relaxed manner. Any resort is going to be busy on weekends and holidays. Arriving early gets you closer parking, fewer lines, moving around easier, getting lessons without rush, and generally being more organized for the day. It's less stress for you and/or your kids. No hurry, no worry!

Q: What or who inspires you most?
A: Along my career path many people have inspired me – my biggest inspiration is my husband, Michael. He's an amazing athlete and coach, and most importantly, he makes me laugh. Others who inspire me include each of my teammates on the PSIA-AASI National Team, the owner of Portillo Chile - Henry Purcell, everyone on our Skiers Services team here at Heavenly, and nearly every student that I've ever had the pleasure of coaching.

Q: What's your favorite run?
A: Gunbarrel. I've said for many years that it is the reason that I work at Heavenly! Over time, I've discovered lots of other things that contribute to my fulfillment here, but Gunbarrel is a run that you can get fit skiing – it's just a blast. It's always either good skiing or good-for-your-skiing!

Q: Anything else you want to add?
A: Thanks to everyone, front line employees to senior leadership, who has allowed me to learn from them and be a part of their experience this season. It's been a blast! I look forward to many more together.