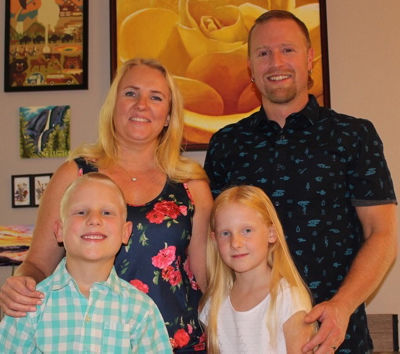 Team Member Spotlight Q&A: Ryan Olm
Q: Hi Ryan! Can you tell us a little bit about your role at Heavenly, and how long you've been here?
I moved to South Lake Tahoe in October, 2004 and took an entry-level boot fitting role with Heavenly Sports. After graduating from the University of Wisconsin-Madison and working six months in a shopping mall in the Milwaukee area, my desire to move West to the mountains could not be denied. Shortly after putting in my two weeks' notice, I mailed my resume to a few dozen ski resorts, snowboard shops, and vendors in hopes of finding that perfect resort job. I left Wisconsin and drove through Breckenridge and Park City with no real leads. As I drove into Reno to spend the night, my phone rang and I met an amazing leader named Cathie Rahbeck, who would ultimately change my life. She hired me onto the Heavenly Sports team, which I was quickly promoted to Assistant Manager, and then into my first Store Manager position. I spent five years in that role, and then another five years as the Rental Operations Manager, welcoming both Northstar and Kirkwood to the Vail Resorts family. In 2015, I became the Senior Manager of Retail Operations for Heavenly and Kirkwood, with responsibility for 17 stores. A little over a year ago, I became the Director of Regional Retail Operations in Tahoe, overseeing 38 stores and 700+ employees, across our three resorts in the region. My career in the industry has been an incredible adventure and a dream come true!
Q: What inspired your career path?
I grew up waiting each month for the next Snowboarder magazine to arrive in the mail. I was always fascinated by the style, fashion, and energy in the industry. When the buyer's guide was released, the technology innovation, new color schemes, and new vendor launches were captivating. As a teenager, I would find excuses to have my mom drive me to the local ski and bike shop in my hometown, or to a new shop 'on the way home' from a soccer game. At that point in my life, I thought I wanted to own and operate my own shop someday.
When I arrived at Heavenly Sports, the culture of the team, and the people I met in the community inspired me to make this a career. Everyone here has a passion for the outdoors and truly enjoys what it is they choose to do for 'work'. They prioritize their passions, family, and the values that make them human. I am fortunate to have been inspired by a lot of great leaders throughout my time here. Each one of them has taught me something about myself, what is truly important in life, and how you always have a choice on how to show up every day.
Q: What are some of the responsibilities you have that might surprise people?
A lot of people think I play with product all day... and I used to! In my role now, I'd say roughly 80% of my time is spent on leadership development. It's so important to prioritize transparency and building trust, especially with a large team across multiple locations. It's important to put a lot of thought and consideration into how you show up, why you show up that way, and how it can be adapted to unlock the potential of yourself and others. When we have great leaders, we offer great service, create inclusive working environments, and ultimately drive results.
Some of my other responsibilities include inventory management (right product, right price, and right time), visual merchandising (organized, priced, and presentable), operational auditing (safety, policies, procedures), and rental operations (fleet movement, tuning, testing, and capital investments).
We are also fortunate to operate several branded retail doors including Patagonia, North Face, Oakley, and Burton. We also have stores that operate 365 days a year, and we operate a rental delivery business that has been fun to grow from the ground up.
Q: What are the various roles your team members have? What should guests know about what goes on behind the scenes?
I have an amazing group of leaders that support this complex year-round operation. Our three senior managers all own one-third of this large operation that includes 20 store manager roles all together. We work with a variety of partners, including a local distribution center, a visual merchandiser who continuously audits stores presentation and inventory levels, and more. We also have a rental operations manager who supports our rental operations to ensure we are ready for the upcoming winter season.
Currently, we are in the process of pre-season testing 100% of our rental skis. We are resetting racks and tweaking store flows to achieve targeted strategies and goals, and we are receiving pallets of new retail product and preparing for a retail physical inventory ahead of the winter season. Most importantly, we are actively hiring, promoting, and training our staff to achieve the headcount levels we need to fully operate all our doors this season. If you're interested in a role with us, please check out our current openings on our careers page!
Q: What do you love most about your job? And about Heavenly?
It is incredibly rewarding to support and observe the leadership development that happens across our teams. I have watched so many employees start in seasonal entry-level positions, and through hard work and self-discovery, become year-round leadership professionals. Every time you can make a small difference in an employee or guest's day, I believe it has ripple effects – Heavenly has hundreds upon hundreds of examples of this, and it is truly a special place to work.
Also, opening new boxes of gear still gives me great joy! This time of year, especially, it's like Christmas every day when our new winter goods arrive. The smell of fresh boots, ripping plastic off new boards, trying on new jackets, etc. We love it!
Q: What or who inspires you most?
My children inspire me to consider my decision making and what type of world we will leave behind. The next generations are so incredibly smart, curious, driven, and intuitive. It inspires me to think differently, act differently, and ultimately do the right thing no matter how long it takes.
My leaders also inspire me to keep challenging myself and what is possible. My team is full of inspiring people, who have challenged themselves with their comfort zones, stretching their abilities, and leading their teams by setting expectations, thinking with an innovative approach, and providing (and accepting) continuous feedback. This leadership journey takes dedication, trust, and commitment, which inspires me to be the best leader, peer, human, father, and husband I can be.
Epic Promise also really inspires me. I'm proud to work for a company that prioritizes its employees, environments, and communities. This season I took on the Epic Promise Champion role and it is a continuous reminder of our ability to impact our surroundings. In this role, I encourage participation in events, drive our core values within our employees, and help achieve our EP goals. Our EP Foundation gave emergency grants to hundreds of employees last season affected by the Caldor evacuations, and the Foundation's Commitment to Zero is constantly improving the way we divert waste and invest in sustainable solutions. Our EP Community team is also participating in beach clean-ups, bread and broth, SOS Outreach, and so much more. We are also donating large sums of money to local schools to ensure access to our mountains, supporting local non-profits, and awarding local students college scholarships. We are dedicated to our community, and to making a difference. It's incredibly meaningful to me, and to the whole Heavenly team.
Q: What's your favorite summer activity and in winter, what's your favorite run at Heavenly?
As an Eagle Scout, I have always had a passion for outdoor camping. We have been out camping nine times since spring and have a few more weekends planned. I love being outdoors in nature, swimming in our lakes and reservoirs, and spending 'un-plugged' time with my family.
There are so many great runs at Heavenly, including Fire Break and North Bowl Woods. Honestly, Ridge Run never gets old and will always be my favorite. The view when you are carving down Ridge Run always reminds me of my first season here and how grateful I am to live at the Lake in the Sky.
Q: Anything else you want to share?
Have fun and be inclusive. We are so excited to be approaching the 22-23 winter season. Our stores are located at the base of every lift, and we are here to support your time on the mountain whether it's information, advice, or gear. We welcome all ability levels, and love helping people explore their passion of the outdoors. Everyone is welcome to come visit.