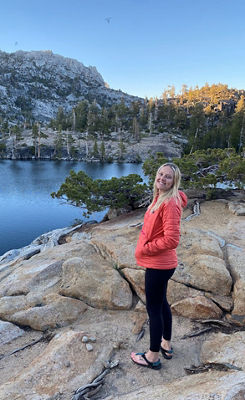 Team Member Spotlight/Q&A: Lila Peterson



Q: Hi Lila! Can you tell us a little bit about your role at Heavenly, and how long you've been here?
A: I am the Senior Uniform Coordinator here at Heavenly. I also help manage the Employee Centers at the resort. I've been with Heavenly since October of 2020, but I started at the Patagonia store in the Village. I began my career with Vail Resorts as a utility worker at Vista Haus Lodge in Breckenridge. My current role allows me to wear a variety of hats. A typical day can consist of assigning uniforms, handing out paychecks, helping international students, or even playing foosball!
Q: What inspired your career path?
A: Growing up in Nebraska with NO mountains, working for Vail seemed like an adventure. I also heard from my partner that it was a great company to work for. Then, I learned about our Commitment to Zero and I was hooked. I'm so proud to work for a company that values our environment and communities.

Q: What are some of the responsibilities you have that might surprise people?
A: In the uniform room we often get confused with HR since the departments were once aligned. So I am often helping employees when they have lost their paychecks. I also have been able to work with our purchasing department and sustainability teams to help reduce waste to landfill in terms of uniforms.
Q: What do you love most about your job? And about Heavenly?
A: The thing I like most about my job is the people! I have had the opportunity to meet almost every new employee this year. I love helping them get acquainted with our resort and our community.
I also have the ability to volunteer with our groups at Heavenly. I am the Co-Captain for our Commitment to Zero team, recognition chair for our Street Team, and a member of our DEI committee. Being a part of these groups helps me feel connected to so many different departments and has taught me so many skills.
Q: What unique or special skills are needed to do your job?
A: Flexibility and multi-tasking. There are often days when I have a plan that gets totally set aside because other projects arise. Understanding priorities is also a huge help! For me, safety first, followed closely by sustainability.

Q: What inspired you to make a commitment to our environment and community here in South Lake Tahoe?
A: Since the first time I visited the west and fell in love with the landscape I knew I wanted to be a part of preserving it. Lake Tahoe in particular is one of my favorite places and I feel a responsibility to protect it. It is my experience that leading by example is the best way to show others how important sustainability is. I also have no interest in waiting for someone else to take the lead!
Q: What was your favorite part of our 2022/2023 ski and ride season?
A: My favorite part about this winter season was meeting all of our international students and having the opportunity to share our resort. I enjoyed getting to hear about where everyone came from and how much they loved Heavenly.
Q: Do you have a favorite run or summer activity at Heavenly?
A: My favorite summer activities are just being outside! Topping the list would be backpacking, floating the Truckee, and soaking up the sun like a lizard.