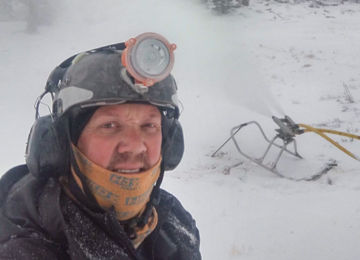 Team Member Spotlight/Q&A: Billy Clark
Q: Hi Billy! Can you tell us a little bit about your role at Heavenly, and how long you've been here?
A: I started in the Winter of 2000 as a snowmaker! After five years on the job, I stepped away, but later returned in September 2015 as the snowmaking supervisor. Snowmaking is my passion and I care deeply about ensuring that Heavenly has enough snow for people to be able to ski, ride, and have fun on our incredible mountain.
Q: What inspired your career path?
A: Snowmaking is a challenging, but rewarding career. I became passionate about the mountains and the South Lake Tahoe community from a young age. As I grew up, I knew I wanted to pursue a career in the industry and here in Tahoe – I truly found my calling in snowmaking. I love what I do!
Q: What are some of the responsibilities you have that might surprise people?
A: We work overnight and throughout the day to run the West Coast's largest snowmaking system! The system is split between two states, and our snowmakers work non-stop to make snow and open as much terrain as safely possible when conditions allow. Most of my work is done while everyone else is asleep. Not only do we make snow in order to open new terrain throughout the early season, but we also make snow in the evenings to maintain the quality of trails that are already open.
Q: What do you love most about your job? And about Heavenly?
A: I have always loved being outside, so to be able to spend most of my days outside is what I love most about my job. Being outside in freezing temperatures can be exactly how it sounds, but when you are passionate about your work and your resort, it makes it all worth it. At Heavenly, I love the community that I am a part of... oh, and the views aren't bad either!
Q: What unique or special skills are needed to do your job?
A: What I consider a unique skill is being able to handle the freezing and windy nights that we ensure on a nightly basis throughout the winters to ensure snow quality is exceptional for our guests. It certainly is not your average 9-5 job and it can be a lot of work in less-than-ideal conditions, but we take a lot of pride in our work!
Q: What or who inspires you most?
A: I am inspired by all of the wonderful people that taught me how to do my job along the way. Some of those people have retired, some of them have transferred to other resorts. One of my biggest inspirations, role models, and mentors was my dear friend Otto. May he rest in peace.
Q: What are you most looking forward to this ski and ride season?
A: I always look forward to seeing the smiling faces and happy people on the mountain when I go up the tram in the evenings to make snow. My job is all about making sure existing runs are maintained and new runs are opened, so seeing all of the fun skiers and riders are having on the mountain makes it all worth it.
Q: Do you have a favorite run at Heavenly?
A: Any run I can make snow on! But those views from Ridge Run never get old.