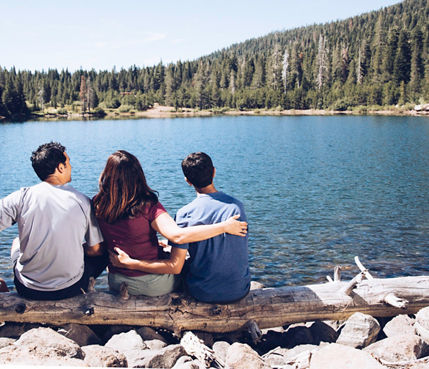 From snow-covered slopes to wide-open lakes, the area around Heavenly Mountain Resort is known for some amazing outdoor sports opportunities. The fun doesn't stop with skiing, boating, kayaking, or biking. The greater South Lake Tahoe region is also home to rushing rapids, perfect for rafting enthusiasts. You'll find white water rafting near South Lake Tahoe suited for both beginners and advanced paddlers.


The Best Rivers to White Water Raft Near Tahoe
Lake Tahoe is one of
North America's largest freshwater lakes
, but it's not the only body of water worth seeing in the region. The greater Tahoe Basin is home to a variety of notable rivers that you can see from a raft. Both leisurely and challenging rafting trips can be chartered within 75 miles of Heavenly Mountain Resort. Head out for a day trip, then come back to the resort for a quick meal or
gondola ride
.
Three major rivers near South Lake Tahoe are ideal for white water rafting.
The Truckee River
The
Truckee
is the only waterway that flows into and out of Lake Tahoe. From Tahoe, it travels through Reno and into the Nevada desert until it reaches Pyramid Lake. The Truckee is fed primarily by the snowpack high in the Sierra Nevada mountains. This means that water levels can be dangerously high during some times of the year. Be aware that trips on the Truckee might be postponed or canceled last minute due to changing conditions.
The American River
This river is
made up of three forks
, all of which originate northeast of Lake Tahoe and flow down the Sierra foothills into the Sacramento River. It's considered one of Northern California's best rivers for rafters due to its diversity and challenging rapids. The Middle Fork of the river is the most challenging, with technical rapids suited only for intermediate and experienced rafters. The South Fork offers a combination of easy and challenging waters for novice and experienced rafters.
The Carson River
The
East Fork of the Carson River
originates near California's Sonora Pass and flows into Nevada, where it provides prime white water rafting opportunities. River-side hot springs are located along the Carson, which has made it a popular destination for overnight and multi-day rafting trips.
Explore the Truckee and Carson Rivers with Raft California
Whether you want to head out for a half-day trip or go on a two-day excursion,
Raft California
has something to meet your needs. If you're looking for a half-day trip, this outfitter's experienced guides will take your party out on class II-III+ rapids along the Truckee River. It's a thrilling experience that packs in fun for rafters of various experience levels. Non-swimmers are welcome on this excursion.
For a longer excursion, head out on a two-day tour of the East Fork of the Carson River. This route features class II-II+ rapids and is perfect for beginners. You'll camp along the shores of the Carson River and can enjoy a dip in the local hot springs after a long day of rafting. This trip is ideal for a group of friends looking for both fun and relaxation.
Raft California offers tours on the East Fork of the Carson River departing from Markleeville about an hour south of Heavenly. Truckee River tours depart from Truckee about 45 miles northeast of Heavenly. You may also see this boating operator listed as Tributary Whitewater Tours. These trips fill up quickly, so book your tickets and resort reservations well in advance.
Discover the American River with American Whitewater Expeditions
The American River is generally considered the most-boated river west of the Colorado River. It flows through varied terrain and offers a glimpse at California's historic Gold Country.
American Whitewater Expeditions
offers half-day tours on the South Fork of the American River that are ideal for beginners.
At the beginning of the trip, you'll raft down class I-II rapids and learn basic paddling techniques. Closure to the Lower Gorge, you'll run through exciting class II-III rapids and have an opportunity to try out your new skills. At the end of the trip, you'll be shuttled back to the American Whitewater Expeditions camp. Rafters are welcome to take a hot shower at the camp before heading back to Heavenly.
American Whitewater Expeditions tours take off about 70 miles west of Heavenly in Coloma, CA. If you're headed to Heavenly from Sacramento or the Bay Area, book in advance to raft on your way to or from the resort.
;
Head out on All Three Rivers With Tahoe Whitewater Tours
Tahoe Whitewater Tours
offers Truckee, American, and Carson Rivers expeditions. If you're looking for a half-day trip, consider heading out on the Truckee River for a ride from the Boca Reservoir area to Floriston. This trip offers class III rapids and an opportunity to see the diverse wildlife found in the area, such as deer, bears, and various migratory birds.
Full-day trips are offered on both the American and Carson Rivers. Experienced rafters may want to head out on the North Fork American River trip that makes a run through Chamberlain Falls. This outing rafts through class IV rapids and drops down a steep gorge. It's a must-do trip for adventurers who want to experience the best rapids in Northern California.
Tahoe Whitewater Tours offers a variety of tours with different starting points. All Tahoe-area tours are between an hour and an hour and a half from Heavenly.
Find Truckee River Thrills with the Truckee River Raft Company
On years when the snowpack permits, the Truckee River Raft Company operates two-to-three-hour tours well suited to beginning rafters and younger adventurers. You'll learn the basics of paddling as you float down a gentle stretch of the Truckee.
Experienced tour guides point out points of geographic interest and wildlife they spot along the way. Rafters are welcome to bring a lunch or drink on Truckee River Raft Company tours.
Truckee River Raft Company is located about an hour northwest of Heavenly in Tahoe City, CA.
Plan Your Next White Water Rafting Trip Near South Lake Tahoe
A white water rafting excursion can add the element of thrill to any South Lake Tahoe vacation. It's also a great way to get familiar with the waterways that surround this natural wonder. Are you ready to head out and explore the local rapids? Start planning your next adventure at Heavenly. Some of the best rapids in the area are just a short drive from the resort.