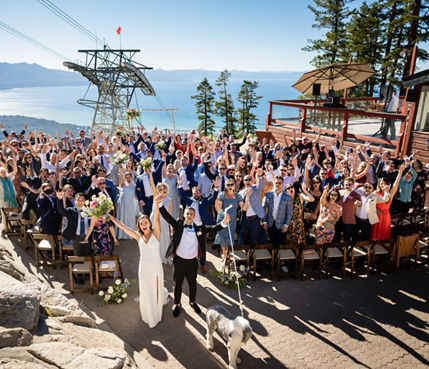 Few travel destinations boast the beauty or grandeur of South Lake Tahoe. The idyllic winter ski destination turns into a lakeside paradise with sparkling clear water during the summer. It's a romantic destination where sunsets and fine dining abound. South Lake Tahoe is a special place — and an amazing location for your wedding. Heavenly Mountain Resort and the surrounding area offer everything you need to ensure your big day is perfect.
Incredible Views & Photo Ops Await at Every Level of the Mountain
There are many scenic wedding venues at Heavenly and surrounding South Lake Tahoe. No matter the location you choose, you'll find the perfect backdrop for your ceremony, reception, and wedding photos.
The Heavenly Mountain Gondola Observation Deck
The Observation Deck next to the gondola is a popular all-season wedding destination thanks to its picturesque location. On the way to the ceremony, the couple and their guests enjoy a 15-minute gondola ride up the mountain. At the Observation Deck, you'll be greeted by sweeping views of Lake Tahoe and the surrounding Sierra Nevada Mountains.
The Lakeview Lodge
Perched atop the mountain, this lodge is Heavenly's premier wedding destination. You can hold your ceremony and reception here or host only the reception on the mountain. The Lakeview Lodge has earned high reviews on The Knot thanks to amazing views, great food, and accommodating event staff. You can take stunning indoor and outdoor photos here too.
Other South Lake Tahoe Wedding Venues
There are a variety of churches and outdoor special event venues in the area. You can have a South Lake Tahoe beach wedding or a traditional ceremony in a local church. Remember that most beach locations must be booked well before your nuptials.
An Array of Wedding Professionals Await You
Heavenly Resort has a full-time event staff that can help with event proposals and planning.
The local area boasts many professional wedding photographers, wedding DJs, and wedding officiants. Whether you want a small, traditional wedding or a big party destined to go viral, you'll find pros who can help you pull it off. Of course, the Heavenly event staff is also happy to help with recommendations for local service providers.
Wedding Dining Locations in South Lake Tahoe
South Lake Tahoe has some of Northern California's best dining venues. During a Heavenly wedding, you can enjoy amazing on-site catering overseen by some of the best chefs in the region. You'll also find an array of restaurants to visit in the days before (and after) your nuptials. Grab brunch with the bridesmaids, take your parents out for an exciting dinner, or enjoy a late-night treat with your partner.
Invite Your Loved Ones to an Unforgettable Destination Wedding
Destination weddings are popular with modern couples, but the costs of attending one can be prohibitive. Getting married in South Lake Tahoe lets you enjoy the getaway wedding experience without passports or pricey flights. The area offers amenities and recreation options for visitors of all ages.
Sightseeing and Recreation
South Lake Tahoe is synonymous with sunny beaches and crystal-clear water. Take your photo at a scenic visit or tackle a hike to the lake at Emerald Bay State Park. See the pristine water up close when you visit a public beach near South Lake Tahoe or Zephyr Cove.
Shopping and Dining
Heavenly Village is a must when you visit the resort, but you'll find dozens of local shops and restaurants when you venture into South Lake Tahoe. Enjoy lakefront shopping and dining at the Boatworks Shopping Mall, or check out locally owned stores at The Crossing at Tahoe Valley
Be a Step Ahead for Your Honeymoon
You could leave Heavenly after your wedding and go on a honeymoon, but you don't have to. South Lake Tahoe is the perfect location for a relaxing honeymoon.
Enjoy truly modern mountain luxury at Zalanta Resort. Located just steps from the gondola deck, Zalanta Resort offers condominium rentals with gourmet kitchens, balconies or decks, and a guaranteed mountain view from your room.
Charter a boating tour. Boat rentals, tours, and charters abound at South Lake Tahoe. Various vessels, including kayaks, paddleboards, motorized boats, and sailboats, can be rented or chartered.
Go out for a night out on the town. South Lake Tahoe has everything from bars to casinos to nightclubs. The area also hosts a variety of festivals and concerts throughout the year. Anyone who likes nightlife will love partying in Tahoe.
Are you ready to plan your Heavenly Mountain Resort wedding? Connect with our wedding experts to learn more about possible venues and book a wedding date. We can't wait to help you celebrate your big day.