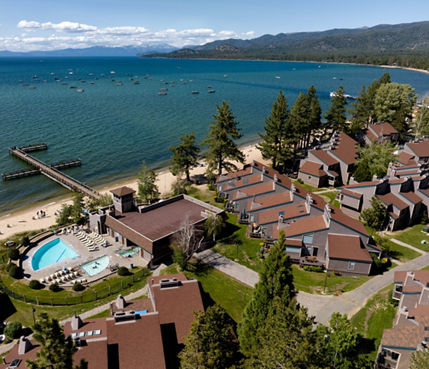 You can catch gorgeous views of Lake Tahoe from Heavenly's gondola and hiking trails. But if you want to see the crystal-clear waters up close, you'll need to head down to the lakeshore and hop aboard a boat. There's a South Lake Tahoe boat tour for every occasion, ranging from a relaxed day with friends to an upscale celebration. There are plenty of boat tour companies operating in South Lake Tahoe, but these nine are some of the best available.

Return to the Paddlewheel Era Aboard the MS Dixie II

Nevada Magazine has called this paddlewheel tour the best cruise in Nevada and one of the best South Lake Tahoe boat tours. This narrated cruise explains how Lake Tahoe was formed and highlights scenic points around the southern end of the lake. Tours depart from Zephyr Cove, which is about four miles from Heavenly via US-50 East.

The MS Dixie II also offers sunset dinner cruises open to guests of all ages. These cruises are operated year-round and feature a three-course menu. You'll enjoy fresh Lake Tahoe air and the excitement of being on an old-fashioned boat no matter which tour you choose.

Head Out for an Emerald Bay Day Cruise

You can hop aboard a luxury yacht for a delightful South Lake Tahoe boat tour. During this two-hour tour, you'll see the sights around Lake Tahoe's crown jewel, Emerald Bay. This state park is a must-see when you visit Tahoe. Every boat is staffed by captains with knowledge of local history and geography who will share insights along your journey. Each cruise ticket includes one complimentary beer or sparkling wine to kick off the tour. You'll also find a full bar and food options on the vessel.

This cruise passes by some of the most beautiful locations along Emerald Bay, including

Fannett Island

Vikingsholm Castle

The Granite Teahouse

Eagle Falls

Tours depart from the Ski Run Marina in the city of South Lake Tahoe.

Charter the Boat Ride of Your Dreams

Seeing Lake Tahoe on a boat tour with your closest friends is an experience you'll remember forever. Plus, it's the best way to customize a boating outing to your needs. Lake Tahoe Boat Rides is one of the best private charter companies in the area. They offer a variety of options, including

A private party boat

Small-group outings where you can swim and relax with friends

Water sports outing where you can learn to ski, wakeboard, or tube the lake

Sightseeing tours with knowledgeable, local captains

Enjoy the Best in South Lake Tahoe Boat Tours Aboard the Lake Tahoe Bleu Wave

If you're looking for a luxury water outing aboard a superbly appointed yacht, the Lake Tahoe Bleu Wave is the vessel for you. Built in 1966, this luxury yacht has traveled the world and now tours Lake Tahoe daily. This yacht boasts a fireplace, private lounge, flybridge, stateroom, and party bow. The interior is climate controlled for year-round comfort. The Bleu Wave offers both public and private cruises around Emerald Bay. Cruises depart from the Tahoe Keys Marina, which is located in South Lake Tahoe, about 18 minutes from Heavenly.

Take a Sunset Champagne Cruise on Emerald Bay

This two-hour tour takes off from the Ski Run Marina in South Lake Tahoe and cruises along Emerald Bay before heading into open water. Once aboard the boat, you'll be treated to sparkling wine or another alcoholic beverage of your choice. Limited narration points out scenic highlights along the way, but this tour is more about relaxing than listening to a guide talk. Of course, the highlight of this cruise is watching a stunning sunset from the water while sipping on a glass of bubbly.

Sail Away on the Sierra Cloud Catamaran

If you want to be as close to the water as possible, the Sierra Cloud Catamaran is for you. This 55-foot catamaran has webbed mesh netting so you can kick back and relax while watching the turquoise-blue waters of Lake Tahoe pass beneath you. On the deck, you'll find cushioned seats for a comfy sailing experience. The crew aboard this boat has superior knowledge of Lake Tahoe's history and geography — they'll be happy to answer your questions about the area!

Be aware that this tour departs from Incline Village on the north side of Lake Tahoe. It takes about 30 minutes to travel there from Heavenly via US-50 East and NV-28.

Live Like Royalty with a Cruise and Castle Tour

Situated in Emerald Bay, Vikingsholm Castle is a hidden gem tucked away on the sunny shoreline. Architecture lovers will appreciate this combined boat-and-castle tour, which offers the best of the lake and land. During the three-hour cruise, you'll travel along Emerald Bay to take in beautiful shoreline scenery from the water. You'll also land at Vikingsholm Castle, where you can tour this masterpiece of Scandinavian architecture and its surrounding grounds. Tours depart from Camp Richardson Marina on the far side of the city of South Lake Tahoe.

Get an Adrenaline Fix Aboard the Tahoe Runner

Adventure seekers will love this high-speed South Lake Tahoe boat tour aboard the Tahoe Runner. Your one-hour tour will speed away to gorgeous Emerald Bay. Along the way, you'll enjoy the thrill of pure speed paired with beautiful Lake Tahoe scenery. The boat accommodates four to six people, making it a great choice for a day out with your friends. Tours depart from Timber Cove, which is located in South Lake Tahoe, about six minutes from Heavenly.

Party Hearty on the Rum Runner

Ready to try a signature local drink during your boat tour? Hop aboard the Rum Runner and enjoy one of the vessel's namesake drinks while cruising Lake Tahoe. These 90-minute cruises travel to Emerald Bay and offer comfortable yet intimate seating. Heading out for one of these afternoon tours is a great way to kick off an exciting night on the town. You'll be able to relax, enjoy a variety of drinks, and snack aboard the Rum Runner. Cruises depart from Camp Richardson Marina immediately to the east of the city of South Lake Tahoe.


Plan Your Next Heavenly Adventure
South Lake Tahoe is one of the premier year-round vacation destinations in the U.S. From boating to skiing to enjoying the casino nightlife, there's something for everyone at Tahoe.
Start your next Tahoe adventure
at Heavenly Resort. It's the perfect base camp when you want to get away with friends and enjoy everything South Lake Tahoe offers.