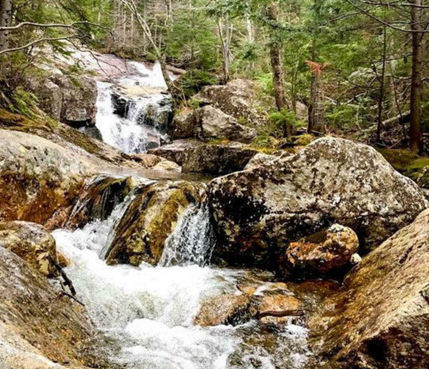 If you've visited Heavenly Resort, you've undoubtedly felt the call to explore beyond the mountainous terrain to the crystal-blue waters of South Lake Tahoe below. Embracing the spirit of adventure, guests often explore the area surrounding South Lake Tahoe, where visitors discover the gems of the forest – South Lake Tahoe waterfalls.

Untamed wilderness leading to the falls offers hiking trails from easy to advanced, each hosting its stunning view of the lake amidst glistening cascades. Mountain trails, wildflowers, and bubbling creeks are ready to greet you along your journey.

If you want an adventure to enhance your Heavenly Resort experience, look no further than these easy waterfall hikes in South Lake Tahoe.

Glen Alpine Falls

Imagine a heavenly view of vibrant blues and deep greens and a fragrance so sweet it's almost hypnotic. While you take it all in, the rush of water fills your senses as the sky's vastness seizes your imagination.

Sound too good to be true? Well, this place does exist, and it's called Glen Alpine Falls. This slice of paradise is ten miles southwest of Heavenly Resort, nestled amidst the alpine trees.

Before you arrive at these South Lake Tahoe falls, you'll want to stop multiple times along the Glen Alpines Trailhead to snap photos, so bring plenty of portable chargers.

Illuminating the path are rays of sun peering through towering pine trees. If you catch the light at the right angle, you'll see the most beautiful, vibrant wildflowers thriving below them. As you advance along the trail, you'll hear the unmistakable roar of Glen Alpine Falls. The best time to visit the falls is right after the snowmelt when the waters swell and cascade down the glistening rocks below.

This half-mile trek begins at the Glen Alpine Trailhead parking lot. You don't have to pack much gear since it's a relatively easy climb. There are other easy waterfall hikes in South Lake Tahoe, but this expedition is dog-friendly, with plenty of patches for your furry friend to explore.

Horsetail Falls

Just 2.2 miles from the Pyramid Creek Trailhead is an oasis in the middle of the Desolation Wilderness area. Horsetail Falls, located along the southwestern shore of South Lake Tahoe, beckons thousands of avid adventurers to explore its wonders. And it doesn't disappoint.

The hike to Horsetail Falls is moderately challenging, with some steep sections and patches of rugged terrain. It's smart to wear a good pair of hiking boots and pack a bottle of water or two for the trek.

The pathway to Horsetail Falls presents the true splendor of Lake Tahoe. Shades of baby blue and forest green reflect on its crystal-clear waters, and you might want to take a few photos here, but if you wait until reaching the falls, you won't regret it.

Snowmelt from the surrounding mountains feeds into Horsetail Falls, creating a mesmerizing display of glassy water cascading down the cliffs. To capture the best view of the falls with Lake Tahoe in the backdrop, climb toward the middle of the falls.

This trail is popular, so you might find the parking lot full. If this happens, no worries. There's an alternative way to get there. Simply catch the TART Route 50 from the Heavenly Village Transit Center directly to the Pyramid Creek Trailhead.

Note: If you were hoping to take your fur baby with you on this South Lake Tahoe Hike with Waterfalls, keep in mind that to preserve the natural ecosystem, dogs aren't allowed.

Cascade Falls

The hike to Cascade Falls begins at Lake Tahoe's western shore. As a hike with only moderate difficulty, it's doable for most people regardless of fitness levels.

To begin your hike, locate the Cascade Falls Trailhead at the Bayview Campground. From here, you'll make your way through one of El Dorado National Forest's most scenic trails.

Against the backdrop of this natural eye candy, you might spot scampering squirrels and chipmunks hopping from tree to tree. And if you're quiet, you may see a few deer.

You'll also encounter ancient rock formations, huge granite boulders, wildflowers (depending on the season), and other hikers soaking in the scenery. About 35 minutes into your walk, the unmistakable glistening comes into view – and there it is – Cascade Falls.

Formed by Cascade Creek, this 200-foot waterfall cascades down a series of granite steps to the waterway below. Snowmelt from the Sierra Nevada Mountain range supplies the rushing water of Cascade Falls. It's a spectacular sight.

To get the best view of Cascade Falls, visit just after the snowmelt.

Lower Eagle Falls

Located a short drive from Heavenly Resort is Emerald Bay State Park. Brilliant green like an emerald, this park holds a treasure — Lower Eagle Falls. This is one hike you don't want to miss.

This family-friendly waterfall is easy to reach. Just a 0.2-mile walk from the Lower Eagle Falls picnic area, you might think there's not much to see along the way. However, the beauty of this spot lies in what surrounds it.

The scenic overlook from Lower Eagle Falls offers a panoramic experience of everything Lake Tahoe has to offer. You'll be enchanted by the crystal blue waters of Emerald Bay, cascading streams feeding a pool below, rocky outcrops, lush mountains, and wildlife.

This short journey to glory is approximately 6 miles from the Heavenly Resort, making it the perfect stop-off after a day on the slopes.

Fontanillis Lake Falls

A few miles from Eagle Falls is a challenging but worthwhile hike to Fontanillis Lake Falls. This 150-foot wonder spans from Fontanillis Lake to Velma Lake and is accessible with a wilderness permit.

The true beauty of Fontanillis Falls becomes evident during the drive from the Heavenly Resort. Snow-capped peaks grace the blue skies above, adding dimension to your drive. As your journey meanders through the forest, roll down the windows and take in the scent of the surrounding fresh pine trees.

Are your senses awakened yet? If not, wait until Lake Tahoe comes into view. This truly spectacular wonder reflects everything surrounding it, giving you a glimpse into what your hike has in store.

Once you arrive at the Eagle Falls Trailhead, continue on to the Bayview Trail junction. Approximately 2.5 miles into this 5-mile journey, the sounds of cascading water begin to guide your footsteps.

As you approach the falls, you'll notice how the sun causes the water to glisten, transforming drops into twinkling stars. Watch as these stars tumble down granite and rock to the pool below, where you might be tempted to take a dip.

If you plan to picnic here, don't forget to bring a bear-proof container. Black bears are known to show up from time to time.


Are We There Yet?
We hope you enjoyed this virtual adventure through South Lake Tahoe's most rewarding trails. If you're eager to make this experience a reality, plan out your route and pack your picnic gear.
The waterfalls in South Lake Tahoe might not cascade in the winter, but you can still capture the spirit of Lake Tahoe at
Heavenly Resort
. No matter which of these South Lake Tahoe hikes with waterfalls you choose, the sights will captivate your senses and beckon you to return for years to come.
Happy hiking!