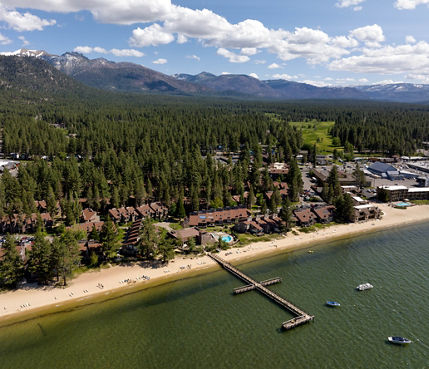 Lake Tahoe visitors embrace various sightseeing pursuits, including summer hikes and scenic gondola rides. Scuba diving in Lake Tahoe ranks among the most unique experiences, offering a different perspective of the natural treasure.

Unlike spontaneous adventures, Lake Tahoe diving requires planning and the services of a local dive shop. But beginners can take part too! If you have the necessary know-how — or the services of a local expert guide — Lake Tahoe diving promises the underwater adventure of a lifetime.



Things To Know About Scuba Diving in Lake Tahoe
Lake Tahoe is famous for its spectacular sapphire hue and gorgeously scenic Sierra Nevada surroundings. These characteristics also define Lake Tahoe as a diving destination. Its waters have exceptional clarity, often offering 30 to 60 feet or more visibility.
What To See While Diving in Lake Tahoe
The geological features that characterize the lakeshore — huge granite boulders, sculpted rock formations, sheer cliffs, and sandy shores — also define a remarkable underwater landscape. Some dive sites feature sunken trees preserved in the cold water, and you'll have plenty of opportunities for outstanding wreck dives in Lake Tahoe. The lake has hundreds of wrecks, including historic barges and pleasure boats in Emerald Bay.
Lake Tahoe diving also showcases various freshwater fish species. Some common fish to see while
diving in Lake Tahoe
include trout species (mostly rainbow and Mackinaw), Tahoe suckers, and Lahontan redside shiners. Keep an eye out for freshwater shrimp, crawdads, and sculpins.
Lake Tahoe Diving Hazards
Lake Tahoe sits at 6,225 feet above sea level. Altitude is the primary factor to consider while scuba diving in Lake Tahoe, since a standard PADI Open Water Diver certification isn't enough for independent diving at high altitudes. The difference in air pressure at Lake Tahoe's elevation compared to sea level requires complex calculations to ensure a safe dive. However, don't worry if you lack the certification. You can dive safely in Lake Tahoe by hiring a qualified guide.
Another altitude-related hazard can happen while driving down from the mountain, especially if you descend quickly too soon after a dive. Consult a local expert for advice regarding safe post-dive acclimatization.
Although cold water is a Lake Tahoe diving hazard, it's easy to handle with appropriate gear. Water temperatures range from the low 30s Fahrenheit in winter to the mid 70s Fahrenheit in late summer. Temperature-wise, summer is the best time to dive in Lake Tahoe, although it also comes with the hazards of increased boat traffic. Drysuit diving (which requires training) is recommended for year-round comfort, but a wetsuit can be sufficient for summer dives in shallow waters.
Strong currents and waves can be potential hazards, as are dramatic drop-offs that can take divers by surprise. You should also know that dive flag laws differ in California and Nevada. South Lake Tahoe dive sites cover both sides of the state line.
South Lake Tahoe Dive Shops
A local South Lake Tahoe dive shop is essential for almost everyone pursuing an independent or guided dive. Their services include equipment rentals, boat charters, guided tours, and certification programs from beginner to advanced levels. Contact a dive shop to discuss your needs and ask questions before your Lake Tahoe vacation.
Tahoe Dive Center
Tahoe Dive Center
is based in Zephyr Cove, Nevada, six miles from Heavenly Resort. It is the closest and only dive shop at Lake Tahoe. For beginners, the center offers SSI Open Water Diver certification, which takes six days and includes e-learning and classroom sessions, dives in an outdoor pool, and four open-water dives in Lake Tahoe over the final two days. Several advanced and specialty certifications are available as well.
Tahoe Dive Center also offers a charter dive at Sand Harbor on the eastern shore of Lake Tahoe. The package includes two tanks, weights, and professional guide services. It's available for a minimum of four divers.
Lake Tahoe Dive Companies in Reno
Two additional dive shops offer Lake Tahoe diving via certification courses and custom charter tours. Both are based in Reno, Nevada, an hour's drive from South Lake Tahoe.
Adventure Scuba Center
offers certification classes from beginner to advanced, including specialty courses in altitude diving. Classroom and pool sessions occur in Reno, with open water dives in Lake Tahoe. The center also has a schedule of guided "fun dives" in Lake Tahoe.
Sierra Diving Center
is a PADI Five-Star dive center offering rental equipment, a "fun dive" adventure tour calendar, custom dive guide services, and certifications for all levels. The center provides more than 30 specialty courses, including Dry Suit Diver, Ice Diver, and Underwater Photographer. Qualified divers can complete Sierra Diving Center's Altitude Diver specialty course — featuring two open-water dives in Lake Tahoe — in a single day.
South Lake Tahoe Dive Sites


Lake Tahoe is a remarkable and versatile diving destination, with dive sites all around the lakeshore. Some of the best are at the south end of the lake and easily accessible from Heavenly Resort.


Emerald Bay

Emerald Bay State Park is one of the most popular destinations at Lake Tahoe, thanks to its shallow, jewel-toned waters, photogenic surroundings, and historic landmarks. The park is 25 miles west of Heavenly Resort.

For divers, it's most notable as the site of the Emerald Bay Maritime Heritage Trail, a series of dive sites featuring multiple wrecks. Divers can explore two large barges and around a dozen recreational boats that sank in the bay in the early 20th century. It's the largest collection of well-preserved wrecks in the United States, with underwater interpretive panels at four dive sites.

Zephyr Cove

Zephyr Cove, one of the closest dive sites to Heavenly, is also one of the best spots for beginner-friendly dives in Lake Tahoe. The site offers extensive shallows with a sandy bottom and interesting rocks. The sandy beach is popular in summer, so expect to share the waters with others and avoid the dock area with its busy boat traffic.

D.L. Bliss Underwater Park
D.L. Bliss Underwater Park is one of the most remarkable Lake Tahoe diving destinations north of Emerald Bay. It features 14 sites along two-and-a-half miles of shoreline — most with dramatic drop-off features, enormous boulders, sheer underwater cliffs, and plenty of fish. The most famous site is Rubicon Wall, accessible from shore via a lengthy swim from Calawee Cove. The wall is miles long with dramatically sculpted granite cliffs. Most other sites require boat access.


Ready for a Lake Tahoe Diving Vacation?
Scuba diving in Lake Tahoe requires preparation but rewards you with an unforgettable underwater adventure. For the rest of your vacation planning needs, check out
Heavenly Ski Resort
's lodging, dining, and activities.