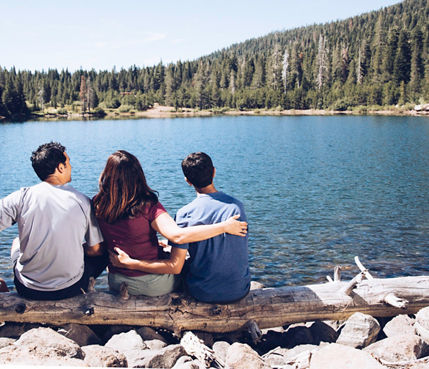 If your ideal summer adventures include kayaking, South Lake Tahoe is a superb choice. Under the glorious California sunshine, summertime visitors are enticed by Lake Tahoe's crystal-clear waters, sandy beaches, picturesque coves, and forest-covered mountain backdrops. Rent a kayak or take one of the top kayak tours in South Lake Tahoe to immerse yourself in this enchanting scene.

There are plenty of prime kayak launch spots within easy reach of Heavenly Resort. With the multitude of rental and tour providers in the region, it's easy to arrange amazing kayaking adventures in South Lake Tahoe.


Places to Kayak in South Lake Tahoe


Ask a local about the best kayaking in South Lake Tahoe and you'll probably hear suggestions for a whole range of different spots. The popular southern shore of the lake has numerous beaches, piers, and marinas that are perfect for launching a kayak. It makes sense to start your adventure at a rental concession location, and beginners usually kayak within the vicinity of that launch spot. More experienced or adventurous groups might have a route or destination in mind. It's always a good idea to consult the rental company representative about your plans.
Nevada Beach
Nevada Beach is a beautiful spot for kayaking in South Lake Tahoe. It's just 3 miles from Heavenly and offers a small, secluded stretch of sand with exceptional panoramic views. The waters are typically calm, and there's a small cave you can paddle to as well as a boat-in picnic area at the south end of the beach.

El Dorado Beach at Lakeview Commons

El Dorado Beach at Lakeview Commons is another fantastic kayaking spot within minutes of Heavenly. It's an access point for the Lake Tahoe Water Trail, a 72-mile route circumnavigating the whole shoreline of the lake. The beach has some handy amenities including a food concession, and parking is free.

Pope Beach

Pope Beach is another access point for the Lake Tahoe Water Trail, making it a popular place for kayaking. The beach is on national forest land just to the west of South Lake Tahoe. The site offers a long stretch of sand, picnic tables, food concessions, and public bathrooms.

Emerald Bay

Emerald Bay State Park, 12 miles from Heavenly Resort, is one of the most popular places for kayaking (and sightseeing) in Lake Tahoe. The bay is notable for its shallow, jewel-toned waters, dramatic cliffs, and two Lake Tahoe landmarks – the historic Vikingsholm mansion and Fannette Island, the only island in the lake. It's possible to circumnavigate the whole bay by kayak, and there are three launch sites to choose from.

Meeks Bay Beach

Meeks Bay Beach is approximately 20 miles from Heavenly on the southwest side of Lake Tahoe. There's a small entry fee for access to this national forest site, which offers access to the water trail. The broad, sandy beach is especially scenic and offers picnic tables and restrooms.


Kayak Tours in South Lake Tahoe
Kayak tours in South Lake Tahoe are unforgettable adventures with many benefits. You get expert guidance with kayaking techniques and navigating the lake. Your guide will offer lots of interesting and entertaining stories about the lake and knows all the most spectacular spots to explore.
Kayak tours are available all around Lake Tahoe's 72-mile shoreline, including plenty of options within close reach of Heavenly Resort.
Clearly Tahoe's Kayak Tours
Clearly Tahoe
tours take you out in transparent kayaks that emphasize the exceptional clarity of Lake Tahoe. You can expect visibility up to 70 feet beneath your kayak! The tour company offers two tours from South Lake Tahoe and one from Zephyr Cove, just 10 minutes from Heavenly by car.
The Clearly Explorer Clear Kayak Charter Tour from South Lake Tahoe begins with a short, scenic cruise on a 46-foot tri-toon vessel. Cruise along the shoreline to the captain's preferred destination for the day, and launch your clear kayak directly from the tri-toon.
Also departing from South Lake Tahoe are Clearly Tahoe's LED Stargazing Night Kayak Tour and Dusk LED Glow Night Kayak Tour. These eco-paddles reveal the serene scenes of the lake at dusk, which then become illuminated by colored LED-equipped clear kayaks.
The Zephyr Cove Scenic Shoreline Clear Kayak Tour takes 1.5 hours and is rated beginner-friendly but with a moderate difficulty level. You'll explore coves that glisten with pyrite (fool's gold), see lavish lakefront estates, and paddle around ancient rock formations. The panoramic mountain views are also exceptional during this tour.
Tahoe Paddle Sports' Kayak Tours
Tahoe Paddle Sports
is another local company offering clear kayak tours near South Lake Tahoe. They have tour options from Incline Village on the north shore of the lake as well.
Departing from Stateline, Nevada (adjacent to Heavenly) is the Historic Cave Rock Clear Kayaking Tour. This 1.5-hour adventure is suitable for all experience levels. It focuses on the history and ecology of Cave Rock State Park on the east shore of Lake Tahoe. The location is notable for its nesting peregrine falcons and dramatic cave formations exceeding 200 feet in size.
DIY Kayaking in South Lake Tahoe


If your group prefers a DIY approach to outdoor adventures, you can enjoy some of the best kayaking in South Lake Tahoe by renting kayaks and launching immediately onto the lake.

A typical rental package includes a single or double kayak, paddles, and life jacket, and some include a dry bag for holding your possessions. You can also expect a safety briefing and basic instructions. Before booking, find out about age and weight limitations and any other restrictions that might apply.

The following companies offering kayaking in South Lake Tahoe are popular among Heavenly guests. Check their websites for up-to-date details.

Action Watersports of Tahoe

With four rental locations near Heavenly, Action Watersports of Tahoe is a popular choice for visitors who want to go kayaking in South Lake Tahoe. You can book online for kayak rentals starting as late as noon, while afternoon rentals are first-come, first-served. Single and double kayaks are available by the hour at the following four locations:
Lakeside Marina
Camp Richardson at Pope Beach
Timber Cove Marina
Round Hill Pines Marina at Zephyr Cove

Kayak Tahoe

Kayak Tahoe has five locations in the vicinity of Heavenly Resort — all of them are prime launch spots. All rentals are available on a first-come, first-served basis. They have single and double kayaks available for one-hour, two-hour, or full-day rentals.

In summer, the following Kayak Tahoe locations are open daily:
Vikingsholm in Emerald Bay (a steep 1-mile hike is required to reach the concession stand at this location)
Baldwin Beach
Pope Beach
Nevada Beach
Meeks Bay
Ready for Your Kayaking Adventure in South Lake Tahoe?
Whether you prefer a DIY tour with a rented kayak or a guided group tour, it's very easy to arrange kayaking in South Lake Tahoe. Your unforgettable summer vacation starts at
Heavenly Resort
!