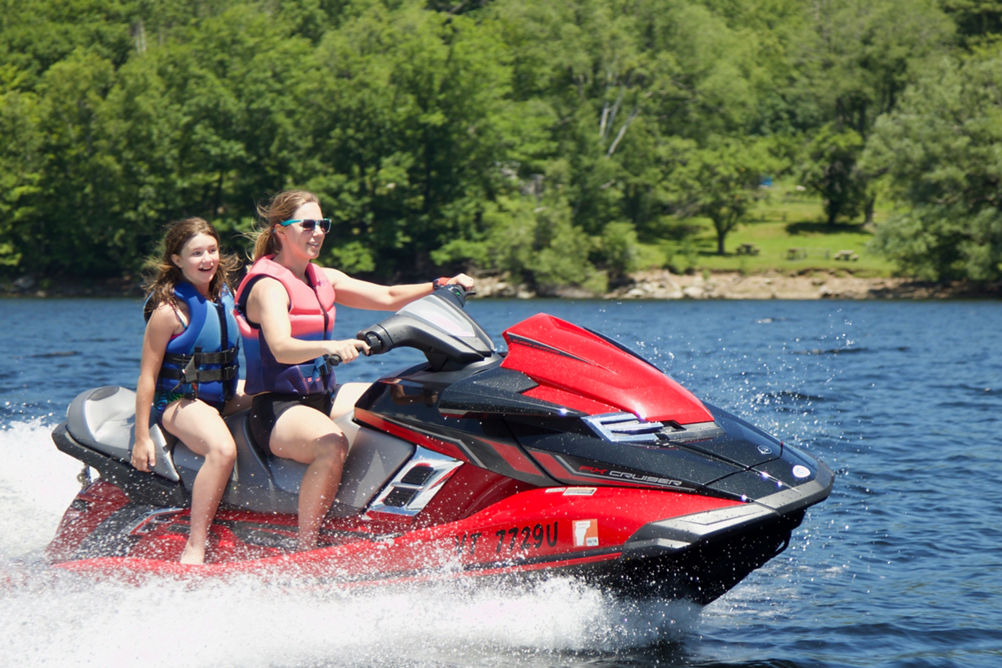 Lake Tahoe is known worldwide as one of the best winter and summer sports destinations. Snow skiing enthusiasts who visit South Lake Tahoe during the summer often head out on ski boats to check out the water. If you want to be totally in control of your sightseeing experience, try skimming across the lake on a jet ski instead. Here's everything you need to know about jet ski rentals and tours in South Lake Tahoe.


Where to Rent a Jet Ski in South Lake Tahoe
Getting a rental from a local shop is the best option if you already know how to jet ski and want to hit the water on your own. Most marinas and boat rental businesses offer jet ski rentals. Some of the top South Lake Tahoe jet ski rental businesses on TripAdvisor include:
Rental shops require that you be at least 21 and present a driver's license and credit card to rent a jet ski. All jet ski drivers in your party have to be at least 16. Rentals include wetsuits and personal flotation devices (PFDs), which Nevada and California laws require you to wear at all times while on a jet ski.

If you plan to bring your own jet ski, be aware that only direct-fuel-injected engines are allowed. Before putting it in the water, you should also inspect your jet ski for invasive aquatic species. You can learn more about Lake Tahoe boat, jet ski, and watercraft regulations from the Tahoe Regional Planning Agency.


Head Out on a Tour Jet Skiing South Lake Tahoe
Lake Tahoe is the largest alpine lake in North America, with a total water volume rivaled only by the Great Lakes. Tahoe is a natural splendor — and a big one at that. One of the easiest ways to learn the lake's geography is by joining a jet skiing tour. If you want to sightsee aboard your jet ski, it's the best way to make use of your rental time too.
The most popular jet ski tour in South Lake Tahoe is hosted by Tahoe Sports and explores
Emerald Bay
. You'll cruise to the bay during your relaxed two-hour tour, taking plenty of time to scope out the shoreline and explore the lake's natural features. This tour is perfect for small groups that want to get out on the water together. Morning rentals and tours depart from the Ski Run Marina. Evening rentals are available at the Tahoe Keys Marina.
Other jet ski rental companies in the area occasionally arrange private tours. If you're interested in designing a custom jet ski tour, reach out to a rental company as far in advance of your Tahoe vacation as possible.
Sights to See While Jet Skiing South Lake Tahoe
Renting a jet ski is one of the most efficient ways to get around South Lake Tahoe. You can skip out on highway traffic and skim along the shoreline unfettered or head out to the lake's open waters. It's a good idea to plan your jet skiing route ahead of time so that you can make the most of your rental hours. Some of the most popular sights include
Emerald Bay: This state park is one of the top sightseeing destinations in South Lake Tahoe, thanks to its gorgeous geography and secluded location along the lake's shore. It's especially spectacular from the water, thanks to excellent visibility. You can circle Fannett Island and admire the ruins of the stone tea house built there. Traveling by road, Emerald Bay is located about 15 miles from Heavenly along US-89 N.

Meeks Bay:Another popular Tahoe spot, Meeks Bay, is located northwest of Emerald Bay along Tahoe's western shoreline. You can cruise by to admire the sandy beaches and pristine waters, or you can stop to use the public restrooms and grab a snack. Try to spot the historic Rubicon Point Lighthouse on your way to Meeks Bay. If you decide to visit Meeks Bay by car, you'll find it a little more than 20 miles from Heavenly on US-89 N.

Cave Rock: Sacred to the local Washoe Tribe, Cave Rock is a stunning formation that towers above the shoreline of Tahoe just north of Zephyr Cove. You can jet ski past the shoreline and admire the rock formation from the water or pull into the small boat launch and beach to see it up close. This is a great place to stop for a snack or drink if you're out for an all-day adventure. Cave Rock is located in Nevada, about 10 miles from Heavenly on US-50 E.

Download the free Tahoe Boating App before your adventure to explore even more destinations to see while on the water. The app also has crucial information about boating and jet skiing laws, no-wake zones, and local geography.


Head Out for Jet Skiing on South Lake Tahoe
There's nothing like watching the aquamarine waters of Lake Tahoe zip by from the seat of a jet ski. Are you ready for your next adventure?
Heavenly Mountain Resort
is the perfect place to explore everything South Lake Tahoe offers. Learn more and book your stay today!