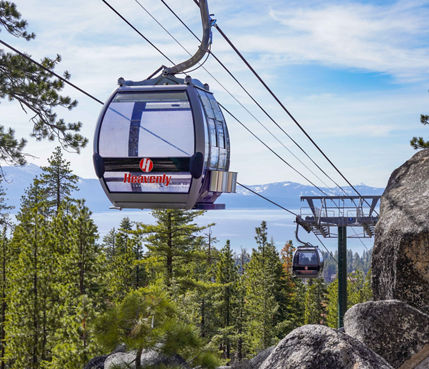 Lake Tahoe is a natural treasure known for its clear water and deep aqua coloring. Located on the shores of this crystal-clear lake, Heavenly has some of the most picturesque views of any ski resort. If posting Insta travel shots is one of your favorite pastimes, you'll love everything that Lake Tahoe has to offer. Whether you're looking for an edge-of-the-world shot atop a mountain ridge or an idyllic snow scene, you'll find unbeatable views of gorgeous Lake Tahoe and an array of Instagram-worthy spots in and around Heavenly.
Best Photo Spots at Heavenly Mountain Resort
The Heavenly Gondola

Riding on the Gondola is widely considered a must-do at Heavenly. During the 12-minute ride, you'll reach an elevation of 8,100 feet. It's an eagle's-eye view of Lake Tahoe that you just can't get anywhere else. If you want to get the most out of this shot, pick up a polarizing lens cover for your camera or smartphone to eliminate glare off the lake.

The Scenic Viewpoint on California Trail

Take a moment when you get to the top of California Trail to stop at the scenic viewpoint and catch some panoramic shots of the resort and lake. If you want to take a selfie where you look like you're on top of the world, this is the spot. It offers both mountainside and lake views — whatever your shot demands. You'll get great photos of Lake Tahoe's southeast shore from here no matter the season.

Tamarack Lodge

Looking for an indoor shot? Tamarack Lodge has ceiling-height windows, open beam work, and circular chandeliers. It's a beautiful interior space that works as well for a quick selfie as it does for a well-planned architecture shot. To get the best photos, you'll need to hit the lodge when it's not too crowded. Don't worry, there's plenty of food and drink here to make your wait worth the while.

The Sky Deck

If you're headed up the mountain, a stop at the Sky Deck is well worth your time. This viewing platform stretches 0.2 miles and offers a truly panoramic view of the surrounding area. Whether you want to catch action shots of skiers and snowboarders headed downhill or capture the lake, you can do it here. This is a great place to experiment with photo lighting throughout the day.

Lakeview Lodge

Often used for weddings and other private events, the Lakeview Lodge is also open for skiers who want to stop for food and drinks. You can capture some stunning views from outside the lodge and the surrounding grounds. It's a must-visit if you want to take group photos with your friends or family that capture Lake Tahoe in the background. In the evening, it's the perfect spot for a romantic couple's shot or a sultry selfie.

The Sky Express Lift

Want to post some breathtaking, edge-of-your-seat photos of your ski adventures? Hop on the Sky Express lift and start snapping. On the ride up the mountain, you can snap both the forest below and the lake itself. Stop for a few photos at the top of the lift before heading back down the mountain. It offers another stunning view of Tahoe's southeast shore.


Best Photo Worthy Destinations Around South Tahoe
You haven't really seen Tahoe until you've driven around the lake to check out the communities and natural features dotted along its shoreline. If you can squeeze in a bit of extra time before you leave Heavenly, check out these Insta-ready spots. Several are located on the return trip to the Reno-Tahoe Airport.

Emerald Bay

Emerald Bay is widely considered one of Lake Tahoe's most iconic spots. A paved, wheelchair-friendly trail makes its way through the pines to an open viewing area ideal for catching close-up shots of the lake or taking group photos. During the peak summer season, try visiting this spot as early in the day as possible. It gets crowded as the day goes on, and you may not be able to find legal parking.

Cave Rock

Located on a trail off Highway 50, Cave Rock is a go-to location for photographers who want to shoot the sunset over Lake Tahoe. The short hike to the rock is well worth it for the wide variety of shots you can take here. Take advantage of the 360-degree view to shoot the lake, forest, and surrounding mountains.

Secret Cove

Secret Cove is every bit as special as its name makes it sound. This public beach is a popping place in summer thanks to its turquoise waters — but it impresses in all seasons. During the fall and winter, you can get amazing shots of the glassy surface of Tahoe from this beach.

Sand Harbor

Located in Lake Tahoe Nevada State Park, Sand Harbor is a popular beach destination that boasts great shoreline views. If you're brave enough — or your camera is waterproof — you can launch a paddleboard or kayak from the beach and take photos on the lake. It's also a must-visit location if you want to take a sunset shot from along the shore.

Chimney Beach

It's not often that you happen across a free-standing chimney on a public beach, but that's exactly what you'll find at this secluded Tahoe location. It's worth the drive from Heavenly just to pose in front of the lonely chimney for a selfie. It also makes a stunning landscape photo complete with Lake Tahoe in the background.

Monkey Rock

If you're up for a hike, take this 2.6-mile-roundtrip trail outside Incline Village to reach Monkey Rock. You can enjoy beautiful views of the lake from this carved granite rock that, true to its name, looks like a monkey. It's also a great spot for photos set in towering pines thanks to its location in the Humboldt-Toiyabe National Forest.


Lake Tahoe is arguably one of the most Insta-worthy spots in the world. If you want to capture all the best shots of the area, you'll need to spend some time there. Browse everything Heavenly has to offer and start planning your South Lake Tahoe getaway today.