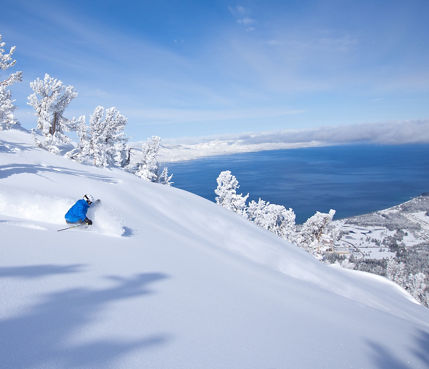 When you're planning a vacation to a ski resort, you're probably thinking mostly about the gleeful fun and adrenaline rush you get from soaring down the slopes. Cozy evenings with close friends and post-adventure beers might also be high up on that list. But don't overlook another key factor that makes any ski trip memorable – the scenery.

Choosing one of the prettiest ski resorts in any region amplifies every happy moment. It's no wonder that South Lake Tahoe, the scenic centerpiece of a ski area spanning two states, draws visitors from all over the world. If you're enticed by views of Lake Tahoe, you'll certainly fall in love with Heavenly Mountain Resort. The vibrant hub of Heavenly Village is just half a mile from the lakeshore.

Head to Heavenly to find overlooks for prime photo ops, witness majestic sunsets over the iconic alpine lake and experience mindful moments awestruck by the beauty of nature.


Lake Tahoe Is a Scenic Treasure
Lake Tahoe is stunning. Its extraordinary beauty is attributable to the water's uncommon clarity, making it sparkle in emerald and sapphire jewel tones. Forested Sierra Nevada slopes surround the lake, adding to the natural beauty of the scene. Tahoe is also the largest alpine lake in North America and the second-deepest in the nation. Its vast expanse means the lake is visible from miles around.
Seventy-two miles of shoreline support cities, resorts and communities around the California and Nevada sides. Yet, most lakeside land is protected as national forests and parks, keeping it unspoiled while accessible for recreation.
Add Sunshine for the Prettiest Ski Resorts
Winter weather brings abundant snowfall to Lake Tahoe – a pretty important requirement for scenic ski resorts – but that doesn't mean there's any lack of sunshine. After all, Lake Tahoe is in the famously sun-drenched states of California and Nevada. The region typically experiences 300 days or more of sunshine every year, making the weather pleasant even when there are feet of snow on the ground.
Clear skies improve visibility, meaning views for miles are much more common than fog- or cloud-shrouded scenery. All that sunshine and bright blue skies make the scenery especially gorgeous, so there's no doubt that Lake Tahoe boasts some of the prettiest ski resorts in the world.
Heavenly Offers Countless Views of Lake Tahoe
Heavenly sits at the southeastern corner of Lake Tahoe, in South Lake Tahoe, with Stateline, Nevada next door. No matter where you are in the expansive resort, the lake is rarely out of sight. It also takes on a new look with every angle and elevation change, not to mention each shift in season. Heavenly's location promises sunrise views over the Sierra, while the sun sets each night over the lake in a wonderfully photogenic display.
The higher you venture up the mountain, the broader the panorama becomes, inspiring that awesome sense of being a tiny speck amid nature's immenseness. These are the kinds of Lake Tahoe views you get from Heavenly's 114 ski trails, summer hiking trails and a scenic Gondola ride. Down in Heavenly Village and closer to the water, you will be soothed by Lake Tahoe's sounds and ripples. Take in the macro beauty of Tahoe's prettiest ski resort by watching birds in the trees, seeing icicles hanging from storefront awnings or ice skating under twinkling holiday lights.
Heavenly Resort's Best Views
All of Heavenly Resort is beautiful, but a handful of spots are especially worth seeking out for photo ops and sightseeing. If you're not skiing or snowboarding, avoid missing out on the views from the higher slopes by riding the Heavenly Gondola. Climb onboard at Heavenly Village and ride up to the Observation Deck at 9,123 feet, then get back on to reach Tamarack Lodge at 9,150 feet, which also features another scenic overlook.
During summer, you can access hiking trails from the top of the Gondola. The California Trail Overlook is a short stroll away. Or, go on a tougher, steeper trek up the Tamarack hiking trail. Stop along the way at the Carson Valley Overlook and Top of Sky Express Overlook, all promising some of the best panoramas of Lake Tahoe.
Restaurants and Bars with the Best Views of Lake Tahoe
When choosing a restaurant, bar or brewpub at one of the prettiest ski resorts in Lake Tahoe, the views are as much a consideration as the menus. Some of the most scenic spots for dining or grabbing a drink with friends at Heavenly include:
Tamarack Lodge
Ride the Gondola up to Tamarack Lodge for breakfast, lunch, snacks or drinks with unrivaled views. The cuisine is casual comfort food such as burgers, soups and salads. On Fridays and Saturdays, the lodge has live music in the afternoons.
Lakeview Lodge
Open only for the winter season, getting to Lakeview Lodge is a fun and scenic experience itself, requiring a 5-minute ride on the historic Aerial Tram. The property features two dining rooms, a large bar and two outdoor decks, all with panoramic views of Lake Tahoe from 2,000 feet above its shores. Grab-and-go lunches are available as well.
Cafe Blue
Grab a tea, coffee or hot chocolate to warm your hands as you take in the views at the Observation Deck. The cafe is accessible via the Heavenly Gondola.
More Scenic Spots at Lake Tahoe
Approximately 24 miles from Heavenly Mountain Resort is
Emerald Bay State Park,
widely regarded as the prettiest spot on Lake Tahoe. Drive west on the scenic CA-89 to reach the parking area. From here, it's a mile-long, very steep hike to the lakeshore at Emerald Bay. There's also a scenic overlook for taking photos if you prefer not to hike down to the water. Vikingsholm, a historic Scandinavian-style mansion open for guided tours, is a major attraction in the park. Emerald Bay is one of the most popular places in Lake Tahoe and parking is limited, so aim to arrive early to score a space.
If you enjoy scenic drives, consider a full day's drive around the entire lake. It's a 72-mile excursion that takes about three hours behind the wheel, but you should definitely allow plenty of extra time to stop at overlooks and beaches, and explore some of the other towns around the lake. A few scenic highlights include Crystal Bay, Sugar Pine Point State Park and Sand Harbor. Check up-to-date road conditions before departing.