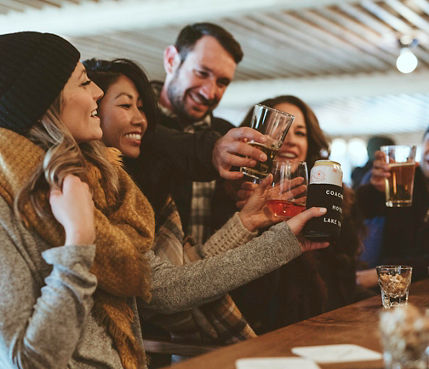 Because it's within the bustling town of South Lake Tahoe, there is no shortage of things to do at Heavenly Mountain Resort after a day on the slopes. But for many people, nothing puts the cherry on top of an incredible adventure at one of the largest ski resorts in Tahoe than a glass of wine or a craft cocktail. Fortunately, South Lake Tahoe has plenty of places to explore, from upscale wine bars to casual taphouses. The lakefront town has so many different options, each with a variety of drink choices, so every friend in the group can find something they'll like!




South Lake Tahoe Wine Bars
The Idle Hour
Those looking for a South Lake Tahoe wine bar that is right on the waterfront of the lake itself need to look no further than The Idle Hour. Watching the sun go down over Lake Tahoe from the large deck with a glass of wine in your hand is an iconic way to celebrate your Heavenly Resort vacation.

The Idle Hour offers a large selection of wines by both the bottle (over 200 bottles) and glass and hosts a special tasting room where different varietals, primarily Californian, can be tried. The South Lake Tahoe wine bar also serves pizzas, paninis, and food plates that are meant to be paired with the wines.

Cafe Fiore

When it comes to a real European-style wine bar, South Lake Tahoe has a place where you will find your home. Cafe Fiore is a small authentic Italian restaurant located in one of South Lake Tahoe's real neighborhoods and housed in a gingerbread-house-style cabin.
Besides the handcrafted Italian dishes and desserts, Cafe Fiore offers guests an extensive wine list that is typically paired with the plates. Though it focuses primarily on Italian varietals from Piedmont and Tuscany, the list includes many California labels as well.




Après and On-Mountain Drinks
The California Lodge

This classic ski lodge is just the place to enjoy a nice glass of wine while still on the slopes. In fact, the California Lodge is located right inside the Heavenly Resort right at the base of the Gunbarrel Express. It's the resort's original lodge, a historic piece of South Lake Tahoe.

The Cal Bar offers you a chance to get warm and snuggly while relaxing after a long day spent on the snow. At this bar, South Lake Tahoe views and history surround you.

Steins

Home to the popular Umbrella Bar, this German-themed restaurant and drinking establishment is also located right within the Heavenly Resort — just above the Powderbowl Express Base. Steins is a unique South Lake Tahoe bar that sits right on the slopes. Steins also serves German pub fare like bratwurst and pretzels. Grab a chair under the umbrellas and relax.

Sky Deck Grill

Situated more than halfway up the mountain at the base of the Sky Express, the Sky Deck Grill is known as an "extreme" burger bar more than a wine bar; South Lake Tahoe locals know better, though. Besides elk burgers, kebabs, and shrimp from the grill, the open-air venue hosts a full bar, including several select wines by the glass that can be enjoyed here.




South Lake Tahoe Bars and Restaurants with Wine
The Cocktail Corner

Sitting adjacent to the Bistro at the Corner, a modern fine dining establishment with a dedicated following in Lake Tahoe, The Cocktail Corner is also a great après destination. Its menu includes a wine list with 10 different wines by the glass and signature cocktails, all in an upscale setting with a marble-top bar and a large outdoor patio.

This South Lake Tahoe bar that draws both a local and a visiting crowd. Located in the heart of town near the "Y" intersection, The Cocktail Corner also hosts live entertainment, including a live DJ on select weekend nights, and Sunday brunches, depending on the season of the year.

The Loft Restaurant and Lounge

Located within Heavenly Village and just steps from the resort, The Loft Restaurant and Lounge is a unique South Lake Tahoe wine bar. While it's home to one of South Lake Tahoe's most popular live entertainment acts — the Magic Fusion show — and one of the area's top-rated restaurants — TASTE — you will also find a contemporary drinks lounge here that offers up an award-winning wine list voted the best of Tahoe in 2016.

Whether you come to enjoy the show and dinner or simply to sample the varietals at The Loft Restaurant and Lounge, you will be surrounded by music, games, and people having a good time. South Lake Tahoe has few establishments that can match the energy and dynamics of this place — it's a must-visit for those in the Tahoe area.

Boathouse on the Pier

This nautical-themed restaurant and wine bar in South Lake Tahoe doesn't disappoint. The Boathouse on the Pier is primarily a seafood restaurant with panoramic views over expansive Lake Tahoe, but it also has one of the most extensive wine menus in town. Grab yourself a waterfront seat and a bottle of bubbly and enjoy the views.

McP's Taphouse Grill

McP's Taphouse Grill offers an extensive wine list plus over 40 beers on tap and a fully developed cocktail menu. It's a staple of the nightlife scene in Lake Tahoe.

McP's hosts live musical acts every day of the week, which pack its dance floor and keep the bar pumping. Outside seating on the large and sunny patio is also available: a nice place to relax with a glass of wine or beer after skiing the slopes since daybreak. McP's is located near Stateline and just a 10-minute drive from the Heavenly Resort.


Enjoying South Lake Tahoe's Wine Bars and Beyond
Wine and skiing are a match made in South Lake Tahoe. After a weekend spent on the slopes at Heavenly, sipping a glass of wine or your favorite cocktail on a patio somewhere is almost a mandatory experience. Don't wait till the last minute to reserve your place; book a room or suite at Heavenly Resort today.