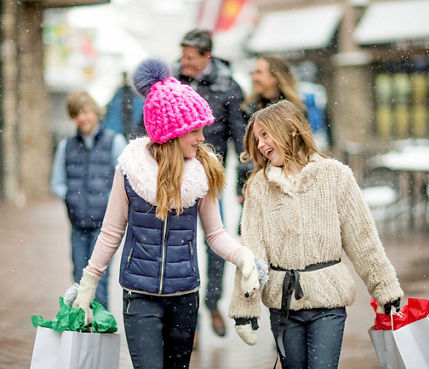 Planning a ski vacation to Heavenly Mountain Resort? When you get there, you'll want to spend some time visiting the shops at Heavenly Village. Shopping in South Lake Tahoe is an adventure in itself, and you'll find everything from premium clothing and sports gear to enchanting gifts, gourmet foods, and unique works of art.

Many of these shops are open year-round, but it's a good idea to find out ahead of time if they'll be open during your stay.

Heavenly Sports

Heavenly Sports is famous for being Heavenly's one-stop shop for ski and snowboarding gear. There are five convenient locations, including Cecil's Plaza, Lakeland Village, the Marriott, and one located directly on the mountain.

The flagship location, located at Heavenly Base at Main Lodge in the village, offers an extensive selection of top-brand skis, snowboards, outerwear, gear, and accessories. Each location is staffed with experts who can provide the perfect fit and equipment for your level of expertise.

You'll find familiar name-brand skis, snowboards, and accessories available for sale or rent, and there's also a "try before you buy" demo program that allows you to test drive your gear before making a purchase. If you decide to buy, you'll get a credit of up to two days of the rental price toward your purchase of a new pair of skis or snowboard. And to save time, you can reserve your rental equipment online and arrange for pickup or delivery.

If you have kids, you'll appreciate Heavenly's Jr. Trade program. When you purchase kids' equipment, you can trade it in the following year when the kids have outgrown it and get credit on your next Jr. Trade package.

In addition, Heavenly Sports offers a complete line of name-brand bikes for sale or rent throughout the spring and summer season, plus helmets and accessories.

Buying ski boots? Heavenly Sports provides expert boot fitting services, so you won't have to worry about getting the right fit. And if you have any issues with your gear, you can stop by for quick, professional tuning services for your skis, snowboards, boots, or accessories.

The Boardinghouse

If you're on an adventure vacation, shopping at Heavenly Village isn't complete until you visit The Boardinghouse. Known as South Lake Tahoe's premier ski and snowboard shop, The Boardinghouse is located at the foot of the Heavenly Gondola, just at the base of the slopes.

As one of South Tahoe's original snowboard shops, The Boardinghouse has always been a major part of Heavenly culture and offers a full line of top-quality skis and snowboards for sale or rent, plus a wide range of mountain apparel and accessories. The staff is trained to provide you with the best fit, as well as the right type of equipment for your skill level and goals.

The Boardinghouse also participates in the local "try before you buy" rental program, which allows you to try out your favorite skis and snowboards before you purchase them. Plus, you can reserve your rental equipment online and arrange for pickup or delivery to your lodgings.

Patagonia

As one of the most iconic names in outdoor wear and equipment, Patagonia is famous for its premium quality winter wear and accessories. You'll find an extensive range of clothing and outerwear suitable for all the elements, and durable enough to handle the toughest Tahoe winters.

Conveniently located in Heavenly Village, Patagonia has a full line of ski and snowboarding wear for kids and adults of all ages. Plus, you'll find high-quality apparel that's specially designed for biking, hiking, fly fishing, trail running, and all the other outdoor activities you can enjoy in Heavenly. And because Patagonia is committed to the environment, you can rest assured that all your purchases were created with environmental sustainability in mind and designed to leave the smallest carbon footprint possible.

Poe Rava Gem Co.

If you love unique jewelry, visiting the Poe Rava Gem Co. will make your Heavenly vacation even more memorable. Located in Heavenly Village, Poe Rava has a wide selection of artisan pieces crafted in precious metals and gemstones that reflect the serene beauty of Lake Tahoe. Soon-to-be-wed couples adore their modern wedding bands and edgy engagement rings with alternative gemstones. You'll especially appreciate the Tahitian Black Pearl Gallery, which features exotic natural pearls in handcrafted settings.

The Eadington Gallery

For an unforgettable souvenir of your stay, consider bringing home a fine art landscape you can enjoy for a lifetime. Located in Heavenly Village, The Eadington Gallery features original photographs of the stunningly scenic Sierra Nevada region, all photographed by famed local photographer Michael Eadington. In addition, the gallery provides museum-quality digital printing services, so you can have your own photographs digitized and printed to create a custom work of art.

Village Toys

What's more fun than an old-fashioned toy shop? Located in Heavenly Village, Village Toys is the perfect place to spend an afternoon playing with toys and taking photos for your Facebook or Instagram pages.

Whether you've got kids or are just a kid at heart, you'll love strolling through this retro-style store. It's chock-full of everyone's favorites, including classic toys, dolls, model cars, Lego sets, kites, outdoor toys, board games, puzzles, craft kits, books, stuffed animals, and puppets. There's also a great selection of Lake Tahoe Souvenirs, helium balloons, and even nostalgic candy.

On Tahoe Time

If you love shopping for souvenirs, you won't want to miss On Tahoe Time. Located in the heart of Heavenly Village, this eclectic boutique specializes in Lake Tahoe-themed gifts and decorative accessories. The vast majority of items are either designed or created by local or regional artists and include custom-made wood ornaments, art pieces, prints, framed 3-D maps, and rustic retro-style signs.

When you're shopping in South Lake Tahoe, don't forget to visit the shops at Heavenly Village and Heavenly Mountain Resort. And be sure to visit SkiHeavenly.com to learn about all the shopping, sports activities, restaurants, bars, and entertainment you can enjoy during your Heavenly vacation.