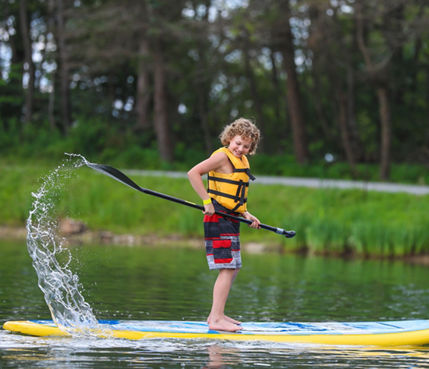 Lake Tahoe, the largest alpine lake in North America, is more than just a spectacular backdrop for adventures in the mountains. Its cool, exceptionally clear waters are also an enticing playground for summertime visitors who want to splash and explore beyond the shoreline. Paddleboarding is one of the most thrilling and memorable ways to do just that, with some of the best places to paddleboard in South Lake Tahoe located just steps from sandy beaches and boasting gorgeous mountain panoramas.

Equipment rentals for stand-up paddleboarding (SUP) in South Lake Tahoe are readily available during the summer season, and you have many choices of launch spots. This fun, easy activity has a short learning curve that allows for a totally DIY adventure. Guided tours are available within driving distance of Heavenly Mountain Resort as well.


Can you Paddle Board in South Lake Tahoe?
Yes! Paddleboarding is a popular summertime activity in South Lake Tahoe, as well as other destinations all around the lake's 72-mile shoreline. The shores of the lake are dotted with marinas, small piers, and public beaches. Many have on-site concessions offering water sports equipment rentals, including SUPs and all necessary safety equipment. There are also local outfitters in the city of South Lake Tahoe.
For first-timers, rental company staff will generally offer a brief tutorial and safety tips. A few companies around Lake Tahoe offer guided tours, but a DIY approach is absolutely viable for most visitors. First-timers should seek locations with shallower, calmer waters.
Weather and lake conditions change frequently, as do the schedules of rental concessions and tour providers for paddleboarding in South Lake Tahoe. Check for up-to-date details during your vacation planning process, as well as immediately prior to any South Lake Tahoe SUP plans.
South Lake Tahoe SUP Rentals
Anyone interested in renting a paddleboard in South Lake Tahoe has plenty of choices. All rental packages generally include a paddleboard, a paddle, a life jacket, and an ankle leash. Select concessions have different sizes of boards suitable for taller and heavier riders. Prices and locations are other key factors to consider when renting a paddleboard in South Lake Tahoe.
South Lake Tahoe SUP companies popular with
Heavenly
guests:
Action Watersports of Tahoe
Action Watersports of Tahoe
has four locations near Heavenly: Lakeside Marina near the state line, Camp Richardson at Pope Beach, Timber Cove Marina, and Round Hill Pines Marina at Zephyr Cove. SUP, kayak, and pedal boat rentals are available by the hour. You can book in person at any location, or online in advance.
SUP Tahoe
SUP Tahoe
is a specialist paddleboarding company located in the city of South Lake Tahoe. Rentals are available daily from April to October, with rates starting at two hours. Daily rates are also available along with overnight add-ons and multi-day discounted rates.
SUP Tahoe offers a wide range of boards, including standard stability boards in two lengths, inflatable SUPS, and extreme stability boards.
Rental packages include rack systems for any vehicle plus help loading and unloading everything at the shop. This allows you to access any of the best places to paddleboard in South Lake Tahoe.
South Lake Tahoe Standup Paddle
South Lake Tahoe Standup Paddle
is a concession at El Dorado Beach, just 2 miles from Heavenly Mountain Resort. The location is just steps from the water, so you can start your adventure in minutes. Three types of paddleboards are available with rates by the hour or day.
Kayak Tahoe
Kayak Tahoe
offers SUP and kayak rentals at five locations near South Lake Tahoe: Vikingsholm in Emerald Bay, Baldwin Beach, Pope Beach, Nevada Beach, and Meeks Bay. If you're wondering where to paddleboard in South Lake Tahoe, just choose any of these rental sites and hit the water!
For the Vikingsholm location, be aware that reaching the concession stand requires a steep, 1-mile hike from the closest parking lot. Kayak Tahoe has paddleboard rentals for 1-hour, 2-hour, and full-day rates. All rentals are first-come, first-served.
Guided SUP Tours Near South Lake Tahoe
While a DIY version of paddleboarding in South Lake Tahoe is doable, some visitors prefer to take a guided tour. Availability varies from year to year, so ask SUP rental companies about their current options.
Here are a few examples of guided SUP tours near South Lake Tahoe:
Paddle Board Yoga Tours
South Tahoe Standup Paddle in partnership with Lake Tahoe Yoga offers
guided paddleboard yoga tours
at Lakeview Commons. These serene, 90-minute morning sessions include all the equipment, a mini lesson, guided paddle, and guided asana practice. Move between yoga positions while balanced on your board, floating on the pristine waters of Lake Tahoe.
Tahoe Jack's Paddle SUP Tour
Tahoe Jack's
is a large adventure company offering water, land, and snow activities, plus rentals and tours. Their Paddle SUP tour is rated "easy" and is available for anyone aged 12 and older, up to 250 pounds, with a moderate fitness level. It's available daily in summer and takes 2.5 hours. You'll learn about the natural history of the lake and have the option for snorkeling and beach time.
Tours depart via shuttle from Incline Village (a 40-minute drive from Heavenly) and take you to Sand Harbor Nevada State Park.
The Best Places to Paddleboard in South Lake Tahoe
There are lots of spots along the shoreline in and near South Lake Tahoe that are suitable for launching a paddle board. For beginners, experts recommend launching in shallow waters near a sandy shore. El Dorado Beach and Baldwin Beach are all good spots for this type of entry. Kiva Beach is notable for waters that are warmer and shallower than average, plus fantastic views of Mount Tallac.
Vikingsholm is a great entry point to Emerald Bay, with its jewel-toned waters and access to Fannette Island. Cave Rock on the eastern side of the lake has dramatic rock formations for an extra-scenic backdrop to your South Lake Tahoe SUP adventure.
Lakeview Commons is in the heart of South Lake Tahoe city and has shallow, usually calm waters. Pope Beach, on the edge of National Forest land, gives you access to the Upper Truckee and Taylor Creek marshes for a change of scenery. Meeks Bay is another popular SUP spot near South Lake Tahoe, known for panoramic views of the east and south shores.
Ready to go Paddleboarding in South Lake Tahoe?
There are few finer places to discover the fun of paddleboarding than South Lake Tahoe! Be sure to add this fun adventure to your itinerary when you book your summer vacation at
Heavenly Mountain Resort
.