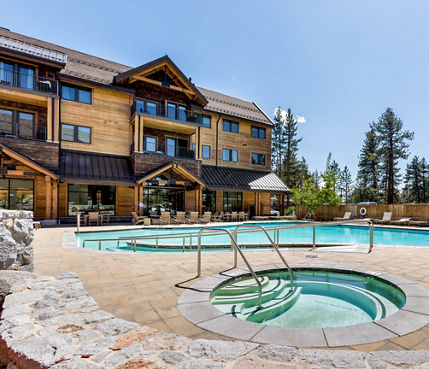 Heavenly is a must-see attraction no matter what your age or fitness level. Guests who visit Heavenly experience entertainment, winter and summer sports, luxury, and adventure all in one location. But perhaps the best thing about visiting Heavenly is the hotels.

Our guests enjoy views of South Lake Tahoe poolside or from the comfort of their private balconies. Hotels in South Lake Tahoe with an indoor pool are also available for those who want to luxuriate in the winter.

We've highlighted some of the best Heavenly lodgings with pools in the area to help you make the most of your trip.


Zalanta Resort at the Village


If you want to stay steps away from Heavenly Village, look no further than Zalanta Resort at the Village. This contemporary resort is the definition of pure luxurious mountain lodging, providing 24/7 concierge service and unparalleled amenities to its annual guests.

What to Expect Inside

When you arrive at this condominium-style lodge, you are greeted by the complete ambiance of the Sierra Nevada mountains and welcoming staff members before heading to your abode.

Each room is equipped with:
gourmet kitchens
stainless steel appliances
plush bedding
comfy living rooms
private balconies
You can freshen up your adventure wear with the en-suite washer and dryer.

Onsite Amenities Galore

Zalenta Resort is packed with onsite amenities, but if you want to head out for some fun in the sun, the Gondola at Heavenly Village is just steps away.

Aside from a stunning mountainside view, Zalanta Resort offers one of the top-rated South Lake Tahoe pools with shimmering water and a heated feature. Here, you can enjoy a refreshing swim or hang out poolside with your friends and catch a little sun.

During the summer, guests enjoy cocktails and live music performances, making this pool the ultimate spot to wind down at the end of your scenic adventure.

Zalanta is a haven for thrill seekers of all ages. Oh, and your fur babies are also welcome here.

Call ahead for pricing and availability, as it is subject to change.


Lakeland Village at Heavenly


Lakeland Village is the ultimate mountain retreat. Just a stone's throw from South Lake Tahoe, this unforgettable gateway introduces you to all things adventurous.

Towering pine trees surround this location, which offers a sparkling beachfront view with access to your private pier. During the winter months, the slopes are abuzz, but guests take advantage of the surrounding biking and hiking trails after the snowmelt.

Other stay-and-play activities include:
snowmobiling
beach volleyball
snowshoeing
ice skating
and more…
There are so many activities to choose from most guests decide to stay and play.

Plentiful Indoor and Outdoor Amenities

Once you're done with your fun in the sun, delight in one of the property's many accommodations, ranging from cozy cabins to five-bedroom townhomes.

The décor in each unit enhances the view, incorporating natural wood and foliage throughout the property. Kick up the heat in the winter with your very own gas fireplace before slicing and dicing in your fully equipped state-of-the-art kitchen.

Touring the property, you'll notice several points of interest, such as:
a blue glistening pool with an Instagrammable backdrop
a bubbling hot tub
an onsite restaurant
fire pits
a fitness center
and more...
There are just too many amenities to cover here. Still, if you're in the market for luxury accommodation with plenty of activities to do in the day and evening – Lakeland Village is your place.

Call ahead to check booking availability and pricing.


Holiday Inn Club Vacations Tahoe Ridge Resort
Peaking over the ridge, like a lighthouse beaconing for thrill-seekers of all ages, is the
Holiday Inn Club Vacations Tahoe Ridge Resort
. This must-see location caters to every guest. From families to honeymooners to man's best friend, this location is sure to please.
Aside from its prime location towering above the pristine blue waters of Lake Tahoe, this 11-acre resort is said to be Heavenly's only on-mountain lodging.
Accommodations and Amenities
This location consists of hotel rooms, condominium suites, and vacation rentals – each bursting at the seams with contemporary décor. Eager guests enjoy a well-appointed kitchen, fireplaces, and private balconies (in select rooms).
Outside the room, the real fun begins as you and your loved ones enjoy a movie at the onsite theater or play a game of mini-golf, shuffleboard, or tennis.
Remember to bring Fido! This area is surrounded by pet-friendly walking trails, beaches, and parks.
After a long day of boating, swimming, and biking, wind down with a dip in their famous South Lake Tahoe pool, followed by a delectable dinner at their Michelin-worthy restaurant.
Chances are, you won't experience all this location offers in just one visit — and that's okay. Most guests come back for more, experiencing what the resort offers off-season.
To find out pricing, check their website and call ahead for applicable discounts.
Lake Tahoe Resort Hotel
Lake Tahoe Resort Hotel
is located a beat from the ultimate shop and dine location — Heavenly Village. This architectural wonder is an all-suite oasis amidst the jagged Sierra Mountain range.
Guests at this location needn't strut far to carve a few lines out on the slopes, thanks to the accessible Heavenly Gondola. But, if skiing doesn't quench your thirst for adrenaline, visit after snowmelt to explore the many surrounding hiking trails. Some of these trails hold hidden treasures like off-the-path picnic areas and waterfalls.
Onsite Treasures for All Guests
If you want to relax after a day at Lake Tahoe, pamper yourself with an onsite massage or a satisfying dip in the whirlpool spa. Oh, and speaking of pools, this is one of the hotels in South Lake Tahoe with indoor pool activities and a nice warming feature.
Lake Tahoe Resort offers a game room, fitness center, restaurant, and concierge services. There are so many opportunities to get swept away in the ambiance you might just forget to take a peak in the room.
Lake Tahoe Resort Hotel's suites are spacious, thoughtfully designed, and decked with plush furnishings. This includes a kitchenette with modern appliances and a cozy fireplace. Each suite offers a private deck with views you'll want to share with your family and friends.
Swing by and enjoy a view of Lake Tahoe like you've never seen it before.
Additional South Lake Tahoe Pool Locations


So many stunning locations offer pools near Lake Tahoe; we just had to mention a few more. In addition, hotels in South Lake Tahoe with indoor pools are included in this list.
These South Lake Tahoe properties are so popular, they're featured prominently in news websites, magazines, YouTube travel guides, and honeymoon photobooks.

If you're ready to forge a lifetime of memories in one vacation — visit Heavenly Resort! Aside from stunning views and prime locations, we offer various seasonal events and world-class winter sports, all proximal to local restaurants, shops, and tourist attractions.

With so many experiences to be had, guests often book far in advance. Don't miss out on your opportunity to stay and play – book today!