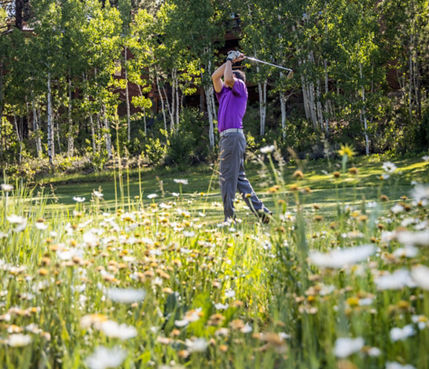 Seated high above Lake Tahoe with breathtaking views of the water and surrounding mountains, Heavenly Resort is where friends can come together and reconnect over fun activities. During the summer, teeing up for a few rounds on a Lake Tahoe golf course is the perfect way to stay social, keep moving, and get out and explore the many beautiful sights of South Lake Tahoe.

If you're looking for the best golf in South Lake Tahoe, you might want a luxurious site with all possible amenities covered. Or, you might want a smaller, local course that feels like it's a real part of the community. Mountain golf courses are unique for many reasons, one being that balls fly further in the high altitude! It's the perfect opportunity to level up your game or try something new with your friends if you're a first-timer.


Edgewood
Edgewood
is a South Lake Tahoe golf course that really couldn't be any closer to the lake—so much so that it has its own lakeside beach. Edgewood is famous beyond Lake Tahoe, though, with some publications ranking it among the
top public golf courses in America
.
It's an 18-hole course located right on the shore of south-eastern Lake Tahoe. George and Tom Fazio designed the course in the 1960s, and the younger partner, Tom, still makes tune-ups to the course now and then.
Avid golf fans will geek out over the golfing history of this course. Nevada's first-ever USGA event was held at Edgewood, and Miller Barber won the third of his U.S. Senior Open competitions at this course.
People consider Edgewood one of the best South Tahoe golf courses for the varied but fair terrain, with challenging sand traps and ponds. For those wanting to kick back after the game, there are three excellent restaurants and even options for private dining for groups that want a little more indulgence.
Location
Edgewood is on the very edge of southeast Lake Tahoe, just off Highway 50 and less than half an hour's drive from Heavenly Resort.
Booking
Make inquiries via the website or contact Edgewood Resort at (888) 769-1924.
Lake Tahoe Golf Course
A little further south of the lake lies
Lake Tahoe Golf Course
. This mountain meadow is the perfect location for combining a satisfying round of golf with spectacular views of the surrounding countryside.
The layout is over 6,000 yards of par 71 championship golf course, ideal for golfers of all abilities. Visitors come here for some of the best golf in South Lake Tahoe because this course is dedicated to sustainability and protecting the environment. Willian Bell designed the course and aimed to create a golfing ground that blended with the Sierra Nevada mountains, which so many guests enjoy. Guests often see wildlife around the course's edge, such as waterfowl and deer, which adds to the experience.
Location
Lake Tahoe Golf Course is a short way directly south of the lake, east of Washoe Meadows State Park, and about 35 minutes drive southwest of Heavenly.
Booking
You can book tee times or even plan your own tournament by contacting the golf course via their
web form
.
Carson Valley Golf Course
Anyone looking for the best golf in South Lake Tahoe must check out Carson City's collection of stunning courses.
Carson Valley
is widely regarded as both great golf and great value, and it also has some impressive amenities like its pro-gear shop.
This is a slightly different type of waterside golfing, with the sounds of the Carson River running by as the melodic backdrop to your round. Keep cool in summer under the shade of vast cottonwood trees, and let your jaw drop at the views of Job's Peak.
Fees vary, but this is arguably one of the more affordable ways to enjoy golf near South Lake Tahoe, so it's perfect for big groups of friends wanting to tee up and get competitive.
Location
Carson Valley Golf Course is less than an hour east of Heavenly Resort, just off Highway 395.
Booking
Book your tee times via the
website
.
Northstar Golf Course
Part of the Vail family,
Northstar Golf Course
is one of the most unique Lake Tahoe golf course layouts. It's the brainchild of Robert Muir Graves, who wanted to preserve the feeling of being part of nature like many landscapers in this part of America. Because of that, the terrain here is rugged and fits in with the mountain environment. The course is both beautiful and challenging, yet there are still plenty of opportunities for beginners to stretch their legs here too.
This 18-hole, par 72 course has two nines that could be from different courses. The front nine plays across wide-open meadows. The latter nine require more precise and technical play through trees and much smaller greens. Whatever your skill level, you and your crew can soak up the mountain atmosphere of the Rockies while trying your best to conquer this course.
Location
This is the only North Lake Tahoe golf course on our list, located about an hour and 20 minutes north of Heavenly Resort via NV-28 and CA-267.
Booking
Booking is completed via the Northstar resort's
website
, and tee times may be booked up to 60 days in advance. Locals may get a discount here, so check with the resort for details. Call the golf club directly at (530) 562-3290.
Tee Up for Summer Fun Near Heavenly Resort
Staying at Heavenly Resort during the summer months gives you access to a world of social, fun
activities
. From around June onwards, the resort offers grab 'n' go food on-site for those who can't wait to get out and about. South Lake Tahoe boasts any number of
hiking trails
, so you and your friends can explore the mountain to your hearts' content.
Golf is just one of the great ways to stay active during the warmer weather while still enjoying the dramatic scenery of the Sierra Nevada Mountains. Find the best golf courses in South Lake Tahoe and make memories that will last a lifetime. If you want more information about making the most of your Heavenly summer playground, check out the resort website or
plan your trip here
.