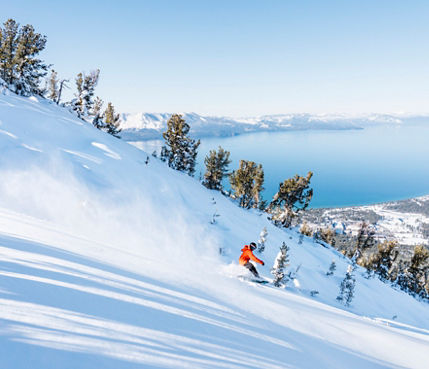 If you're looking for the best place to ski in Tahoe, look no further than Heavenly. Heavenly is a must-see ski destination because of its incredible snow conditions, stunning views of the lake, and wide range of activities for everyone to enjoy. Here are eight reasons why you should plan a Tahoe ski trip at Heavenly:

1. Heavenly's Unmatched Terrain

Heavenly Ski Resort is a top destination for winter sports enthusiasts, offering unmatched terrain that is perfect for adventure-seekers and more casual skiers alike. With 4,800 acres of terrain, Heavenly has the most to explore out of any other South Lake Tahoe ski resort. Aspiring big mountain skiers flock to Heavenly to challenge themselves on seemingly never-ending iconic tree runs and plenty of bowls to experience. At the same time, more casual skiers will enjoy downhill groomers that span two different states, California and Nevada. The variety of terrain found at Heavenly makes it a popular choice for visitors looking for the best Tahoe skiing.

2. The Views From Heavenly Are Unbeatable

The views from Heavenly are undoubtedly some of the best in the world. Whether you're skiing down the mountain, taking the aerial tram, or simply enjoying a bucket-list gondola ride to the top, the experience is one that you will never forget. From snow-capped peaks to the shimmering blue lakes and lush evergreen valleys, the breathtaking view of these panoramic vistas is truly inspiring. Even on days when clouds obstruct some of the sights or snowfall drowns out parts of the view, there's still beauty to be found in this natural symphony. So if you're looking for peace of mind and a unique way to explore life's wonders, it doesn't get much better than Heavenly.

3. Heavenly Has Something for Everyone, From Beginners to Experts

Heavenly is an excellent destination for anyone wanting to hit the slopes. Whether you're just getting started or are an experienced skier or snowboarder, the resort has something to meet your needs. From beginner runs with gentle slopes to advanced routes with steep terrain, Heavenly has the most varied offering of any mountain. The range of activities and attractions ensures there will never be a dull moment; make sure you take the time to explore everything that Heavenly has to offer. With its unparalleled views and trails, it's no surprise that Heavenly is considered the best Tahoe skiing.

4. The Snow at Heavenly is Always Great

With some of the best skiing conditions to be found in California, it's easy to see why Heavenly is a mecca for winter sports fans. The quality of the snow is always top-notch, with the Lake Tahoe area seeing some of the highest average snowfalls in the state. No matter what kind of run you're on, you'll always have perfect skiing or riding conditions, courtesy of the mountainside environment at Heavenly. Whether cruising through Heavenly's iconic tree runs, or taking it easy on a perfectly groomed run, Heavenly has something for everyone.

5. Heavenly's Ski & Ride School is Epic

Heavenly offers lessons for all skiing and riding levels, from beginner to expert. Their experienced and certified instructors will help you build your skills to make the most of your Tahoe skiing trip. You also have the option to discover cutting-edge equipment and assistance renting or purchasing the right gear for your skill level. So get ready to take your skiing or snowboarding to the next level, because Heavenly has everything you need to become a master of the slopes.

6. Heavenly Village Features Great Ice Skating

If you're looking for a great place to ice skate, the open-air ice rink in Heavenly Village is an ideal option. With a long-running season, it's not hard to appreciate the value of this excellent skating location. There's a great range of kid-friendly activities and you can even hire the rink for private parties.

7. Après-Ski Options Are Plentiful

With a wide variety of bars and eateries offering live music, special happy hour deals and plenty of entertainment, you'll find something to enjoy after a long day on the mountain. For options within the resort, try Tamarack Lodge or Steins. Around town, The Naked Fish is known for its great sushi and kid-friendly options. Base Camp Pizza Co. is a great spot to grab a bite to eat and quench your thirst after a long day of outdoor activities. They offer an impressive selection of craft brews on tap, including seasonal beers from local brewers.

8. South Lake Tahoe is a Special Resort Town

South Lake Tahoe is a popular tourist destination with its picturesque alpine landscape and stunningly crystal-clear lake. Visitors to this bustling resort town have the unique opportunity to relax and play in nature's beauty and enjoy all of its amenities. Heavenly Ski Resort is located in the heart of South Lake Tahoe, with lodging, restaurants, retail, and more surrounding the resort. Its restaurants range from classic diner burgers and shakes to innovative fusion cuisine, while its shops offer everything from souvenirs to upscale boutiques. While the ski season is incredible here, Lake Tahoe's tourism is booming year-round.


Conclusion
If you're looking for a ski resort with tons of terrain, unmatched views, and something for everyone,
plan a Tahoe ski trip at Heavenly
. You can plan the perfect ski trip and enjoy everything Heavenly offers: From the Gondola and Tamarack Express to après-ski options and easy access to all that South Lake Tahoe has to offer, Heavenly is your go-to destination for winter getaways.