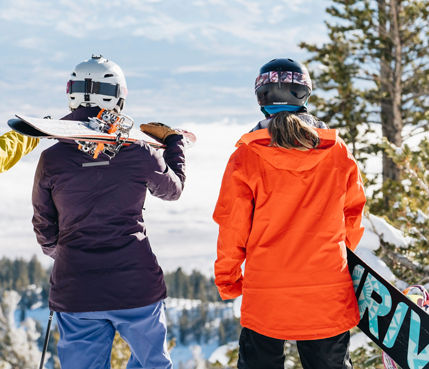 Whether it's your first time skiing at Lake Tahoe or your first time skiing or snowboarding anywhere, Heavenly is an ideal destination. The ski resort offers everything you need as a first-timer, from lessons and rentals to an abundance of beginner-friendly runs. With a whopping 97 runs and five miles of descent, adventurers of skill levels can easily find fun and challenging trails. Closely rivaling the runs as the best thing about Heavenly is the scenery. As the highest resort at Lake Tahoe, the slopes promise breathtaking views of the sapphire lake.

Here is everything you need to know before your first time skiing at Lake Tahoe. (It probably won't be your last!)

Equipment Rentals With Heavenly Sports

There are five Heavenly Sports locations offering ski and snowboard rentals at the resort. You can find two in Heavenly Village and the others at California Main Lodge, Boulder Lodge, and Stagecoach Lodge. It's smart to make reservations in advance, as walk-in rentals are subject to availability. Boots, varied models of skis and snowboards, and helmets are all available to rent. First-timers can rest assured that expert staff will help with fitting and selecting the best equipment for your skill level.

For extra convenience, arrange a rental delivery. Your equipment will be delivered directly to your hotel room or rental. The service includes in-room fittings — a more comfortable and convenient alternative to visiting a rental shop.

You can also pick up reserved rentals the afternoon before your rental starts for no additional charge, so you can hit the slopes first thing in the morning. Ski clothing, gloves, and goggles are not available to rent through Heavenly Sports, so be sure to arrive with sufficient clothing and accessories.

Heavenly's Best Trails for Your First Time Skiing at Lake Tahoe

Heavenly Resort is a vast winter playground offering close to 100 runs and 28 lifts, so it's sensible to plan your day of skiing or snowboarding in advance. Check out the winter trail map to find the perfect trails for your skill level.

For beginners experiencing first-time skiing at Lake Tahoe, focus on the easy trails marked on the map by a green circle. At the top of the Gondola, find Easy Street and Big Easy in a designated learning area just above Tamarack Lodge. In the California Lodge area, access the beginner-friendly Enchanted Forest and Poma Trail via the First Ride lift. Patsy's and Maggie's near Lakeview Lodge are also popular among beginners and anyone who wants to take it easy.

If you're comfortable with trails rated "more difficult," don't miss the chance to tackle Ridge Run (via Sky and Canyon Express) and the California Trail (via the Dipper or Tamarack Chair). These runs are known for having the best views of Lake Tahoe. Advanced skiers experiencing their first time skiing in Lake Tahoe can't miss Gunbarrel, the resort's most iconic double-black-diamond run.

Lessons at Heavenly's Ski and Ride School

For your first time skiing at Lake Tahoe, it's always smart to start with a lesson. This is true for total beginners as well as experienced skiers and riders who want to brush up on their skills and get familiar with the mountain.

Heavenly's ski and ride school has a comprehensive menu of ski and snowboard lessons for all levels, with both group and private learning options. Choose full-day or half-day sessions at one of three locations: California Lodge or Gondola on the California side of the resort, or Boulder Lodge on the Nevada side.

Beginner lessons for first-timers come with the Green Run Guarantee. Heavenly promises you'll learn to ski or snowboard a qualifying run in three lessons, or the fourth lesson is free. Experienced instructors start with the very basics of putting on and taking off equipment and standing safely on flat terrain. Quickly progress to gentle inclines, making safe turns, controlling your speed, and riding the chair lift. This is all designed to get you confident in independently exploring the green terrain of Heavenly.

Note that lessons do not include lift tickets or rentals, but money-saving bundles are available.

Logistics: Parking, Lockers, Shuttles, and More

Maximize your time on the slopes by planning parking, shuttle access, and other logistics ahead of your visit. Look at the various resort maps to understand access points to the mountain, which span both sides of the state line. There are two base lodges in California (California Lodge and the Gondola at Heavenly Village) and two in Nevada (Boulder Lodge and Stagecoach Lodge). Parking regulations differ at each and might change from season to season. Check Heavenly's parking page for up-to-date details.

At the California Base Area parking lot, a reservation-based paid parking program is in effect before noon during weekends and holiday periods. Parking is always free at the other three lots. Additional parking is available at private and city-run lots.

Free shuttles run daily along three routes. The California route connects California Lodge and Heavenly Village; the Nevada route connects Stagecoach Lodge and Boulder Lodge; and the Kingsbury route runs from the Stateline transit center to and from Boulder and Stagecoach Lodges.

Want to store your stuff while you ski or snowboard? Lockers are available at Heavenly for a fee, on a first-come, first-served basis.

Stay by the Slopes with Heavenly Lodging

A multi-day visit is always ideal for your first time skiing at Lake Tahoe, and there are plenty of hotels and lodging options right at the resort. They range from mountain lodges to luxury waterfront resorts, and standard hotel rooms all the way up to residential-style condos and townhouses.

Here are just a few highlights among Heavenly's hotel options:

A relative newcomer to Heavenly, Zalanta Resort at the Village offers modern mountain luxury with two- to four-bedroom condos just steps from the Gondola.

Lakeland Village at Heavenly is a 19-acre lakefront and woodland property with its own marina. Accommodations at the resort are all luxury townhomes.

Hard Rock Hotel Tahoe in Stateline comprises a casino and hotel along with two restaurants, a coffee shop, and four bars and lounges. Guests also enjoy access to an outdoor pool.

Everything Après: Dining and Nightlife

First-timers should know that you're guaranteed to have a huge appetite after a full day of skiing or snowboarding. Fortunately, there are plenty of places for dining at Heavenly, and most offer a vibrant après scene as well. While you're on the mountain, head to the closest eatery among Lakeview Lodge, Tamarack Lodge, Cal Lodge at Heavenly, Café Blue, Sky Deck, or Steins Beer and Brats. You'll find comfort food and full bars at each one.

Off the mountain, Heavenly Village and the nearby cities of South Lake Tahoe, California, and Stateline, Nevada, have options to satisfy every appetite. Local nightlife destinations, including live music venues, span the resort and nearby cities as well.


Ready for Your First Time Skiing at Lake Tahoe?
Everything you need to plan that unforgettable first time skiing at Lake Tahoe is waiting for you at
skiheavenly.com
. Before you book, be sure to check out the
Epic Mountain Rewards
program, which offers big discounts on dining, lodging, lessons, and rentals. This applies to dozens of Vail resorts across North America – after all, your first time skiing at Lake Tahoe could be the beginning of a lifetime of mountain adventures!