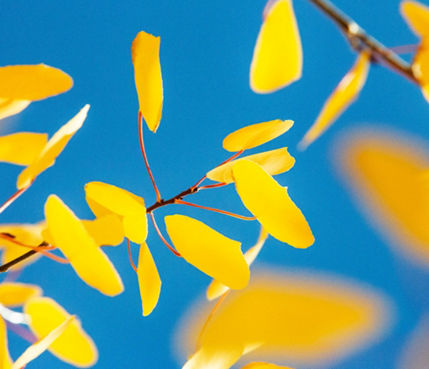 Lake Tahoe is a mecca for both summer water activities and winter snow sports. As the warm days of summer turn to the crisp nights of fall, the area shows off another of its wonders: Stunning fall foliage. The subalpine environment around Heavenly Mountain Resort is home to some of the prettiest fall colors shows on the West Coast.


How to See Fall Colors in South Lake Tahoe, CA
You're probably wondering, "when do the leaves change in South Lake Tahoe?" While it can vary from year to year, changing colors around South Lake Tahoe tend to appear in late September and peak during mid-October. An impressive-but-short display, most local fall foliage has subsided by Halloween. Check out this handy
California Fall Colors Map
, which is updated every Friday in Fall, for the latest on the changing leaves.
The Heavenly area is home to several well-known fall foliage hot spots. From hiking to scenic drives, you'll find plenty of leaf-viewing opportunities within 30 minutes of the resort. Here are seven of the best spots for enjoying fall in South Lake Tahoe.
Go South to Hope Valley
There are myriad places to see the fall colors around South Lake Tahoe, but Hope Valley is widely considered the best of them all. The combination of bright evergreens and colorful quaking aspens makes Situated in Alpine County, Hope Valley is about 30 minutes from Heavenly. From the resort, you'll take US-50 W and then head down CA-89 S.
There are a number of hiking trails in the Hope Valley area that offer views of the turning leaves. You have plenty of options in terms of trail difficulty and length; check out the
most popular hiking spots
around Hope Valley. Plan ahead so you know what supplies you need to pack.
Head Out to Big Meadow Trailhead
Fall in South Lake Tahoe means pleasant days perfect for scenic hikes. Located about 25 minutes south of Heavenly on US-89, the
Big Meadow Trailhead
connects with the Tahoe Rim Trail. This easy 3-mile out-and-back travels along large meadows where you can check out local wildlife and fall colors. Spot birds like the Western Tanager, Osprey, and Blue Grouse as you travel to a stunning open meadow.
The trail is well-maintained and travels through a shady, forested area before reaching the meadow. If you head out in late September, you might spot some late-season wildflowers too. Opt for this short excursion when you want to go on a fun-but-easy half-day foliage adventure.
Explore the Charming Town of Markleeville
Northern Californians often call the town of Markleeville the '
gateway to fall colors
.' This small town boasts a variety of shops and restaurants and is also home to the annual Aspen Festival. Your fall foliage experience will start as you drive through Hope Valley on the way to Markleeville. Once you reach the town, you can enjoy the aspens along the streets while browsing in shops or sitting down for a snack.
Markleeville is located about 30 miles from Heavenly via CA-89 S. Please note that drive times can vary significantly during the fall, especially on weekends. It's a good idea to check Google Maps for traffic information before heading out.
See Fall Colors via Kayak on Fallen Leaf Lake
Situated off CA-89 northwest of Heavenly,
Fallen Leaf Lake
is a popular hiking and boating destination at South Lake Tahoe in fall. There are both leisurely walking and challenging hiking opportunities here. If you prefer to walk, meander along the shoreline and snap some shots of the fall colors reflected in the lake. Adventurers looking for a challenge should head out to the
Fallen Leaf Lake Trail
instead.
If you want to see the changing colors while on the water, you can rent a kayak or boat at the
Fallen Leaf Marina
. Try this if you're looking for a unique way to see fall foliage. It can get chilly here in October, so it's a good idea to wear layers if you're heading out on a kayak.
Peep Salmon & Fall Colors at Taylor Creek
You probably don't associate Lake Tahoe's Kokanee Salmon with the changing fall colors, but you have the opportunity to see both during your next Heavenly visit. Located just 25 minutes from the resort, the
Taylor Creek Visitor Center
boasts close-up views of the salmon's fall spawning run and bright fall colors.
Stop at one of the spawning viewing stations to get an underwater view of the Kokanee running up Taylor Creek. Then, continue on one of the four self-guided trails to check out the area's fall foliage. All of the trails are considered easy, making this the perfect choice for a laid-back outing.
Enjoy a Drive on Luther Pass Road
Photographers who are after magazine-worthy shots of fall foliage in Northern California should consider driving the portion of Luther Pass Road between Meyers and Hope Valley. You'll encounter this section of CA-89 if you're taking the drive to explore Hope Valley. If you're using GPS for this drive, be sure to put in "Luther Pass Road." Luther Pass is a separate city farther along the road.
As you drive through the valley, you'll be surrounded by stunning fall colors. There are several turn-outs along the way where you can stop for photos. Be aware that this is one of the most popular foliage destinations in fall. It's a good idea to pack drinks, snacks, or a lunch to go from one of
The Shops at Heavenly Village
.
Follow the Lam Watah Nature Trail to Nevada Beach
Located on the Nevada side of the state line, the
Lam Watah Nature Trail
is a relatively easy 2.6-mile out-and-back trail. After parking at the trailhead, you'll pass by a pond and then through Rabe Meadows. Pause in the meadows to enjoy scenic views of changing colors across the expanse of grass. You can take the trail all the way down to Nevada Beach to enjoy fall foliage from the shoreline.
The Lam Watah Nature Trail is located about 10 minutes from Heavenly along US-50 E. Parking at the trailhead is free but limited, so head out early in the day to ensure that you nab a spot.
Celebrate Fall Foliage at Heavenly Mountain Resort
The bright reds, yellows, and oranges of changing fall leaves look amazing against the turquoise-blue backdrop of South Lake Tahoe. If you've been searching for the perfect place to see fall colors in Northern California, start
planning your trip
to Heavenly Mountain Resort today. It's the perfect base for your South Lake Tahoe Fall foliage adventure.