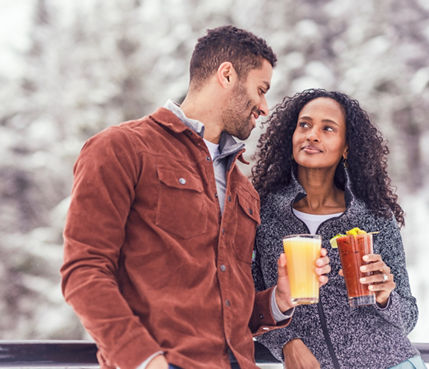 The unbeatable Lake Tahoe views from Heavenly Resort create the perfect romantic atmosphere for a getaway with your loved one. Couples have dozens of opportunities for activities and date nights during their stay at Heavenly Mountain Resort. With romantic date night spots across both the Nevada and California sides of Lake Tahoe, couples will have a blast exploring everything Heavenly Resort has to offer.

1. Scenic Gondola Ride

Get your date night started early with a scenic gondola ride, starting in Heavenly Village. Every couple visiting Lake Tahoe can enjoy this 2.4-mile scenic gondola ride together, with a great view of the most romantic spots at Heavenly. From the Gondola, you'll catch breathtaking views of the Alpine forest and Lake Tahoe from above. Make sure to bring your phone or camera to capture photos of the panoramic views of the surrounding Siera Nevada mountains.

2. The Loft Theatre

Located in the Shops at Heavenly Village, The Loft Theatre is amongst the most romantic spots in Heavenly Village for a memorable date night. Guests staying at Heavenly Mountain Resort can easily walk to the Loft Theatre for an exciting date night of dinner and show. No matter which night of the week you visit, visitors will find a great selection of nightly entertainment here. If you're looking for a unique experience for your date, be sure to catch the magic show to enjoy a laugh with your date.

The Loft Theatre is connected to the TASTE at the Loft, an American tapas restaurant, to grab dinner before or after catching a show. You and your date can select a variety of both hot and cold tapas to share while enjoying a drink from the full-service bar. This cozy theatre and restaurant combo is a must for a great date night while at Heavenly Mountain Resort and in South Lake Tahoe. The Loft Theatre is located on the California side of South Lake Tahoe.

3. Ice Skating in Heavenly Village

Visit the open-air Ice Skating Rink in Heavenly Village for a date in one of the most romantic spots in Heavenly Village. The nighttime ambiance of the South Shore's only outdoor ice skating rink creates the perfect date night setting, complete with lights and music. Skate rentals are available at the booth adjacent to the rink, making your date night planning simple and easy.

Whether you're an experienced ice skater or are trying it for the first time, everyone can have fun at Heavenly Village's Ice Skating Rink. The rink is located right in the heart of Heavenly Village, which means you'll be only steps away from dozens of restaurants and bars to keep your date night going.

4. Kalani's

If you're wondering where to go for a top-tier meal from start to finish, add Kalani's to your list of restaurants for a date night in Heavenly. Kalani's is one of the best romantic spots in Heavenly for couples to share a unique fine dining experience.

Located in the Heavenly Village, near the base of Heavenly Gondola, you're guaranteed to have a delicious meal here, made with fresh ingredients and flavors from the pacific rim. The Hawaiian-inspired menu has plenty to choose from, including the signature Miso-Yaki Seabass. Kalani's bar menu includes unique hand-crafted cocktails to complete your date night, such as a Margarita or a Mai Tai.

5. Azul-Latin Kitchen

The atmosphere at Azul-Latin Kitchen has everything you need for a lively date night in Heavenly Village. The outdoor patio area is warm and toasty with outdoor heaters, creating a perfect date-night ambiance. Couples can share delicious pitcher drinks such as the popular Hibiscus Tequila Pitcher while noshing on house-made chips & salsa. Whether you come for drinks or for a full dinner date night, Azul-Latin Kitchen is a reliable spot for a great date night.

The top-rated food menu at Azul-Latin Kitchen is perfect for couples looking for something different than traditional American bites. The popular Enchilada Classico is full of flavor, featuring your choice of red or green suiza sauce atop warm Enchiladas stuffed with your choice of chicken, steak, pork, or veggies.

6. Heavenly Village Cinemas

Feeling like a relaxing date night after a long day of exploring Heavenly Mountain Resort's 4,800 skiable acres? You won't need to do much planning for your date night at Heavenly Village Cinemas. Relax as you sit back in the comfortable seats in one of the five different movie theatres. Is there a movie you've been dying to see at home? Heavenly Village Cinemas is the perfect place to catch any movie, complete with a concession stand to grab snacks for your movie experience too.

This spot is located within walking distance of both Azul-Latin Kitchen and Kalani's, perfect to grab a movie before or after your dinner date.

7. The Chart House

One of the most highly rated and popular options for romantic restaurants near Heavenly Mountain Resort is The Chart House. This fine- dining establishment offers a cozy and intimate atmosphere with stunning views of Lake Tahoe. The menu features fresh seafood, prime cuts of steak, and other upscale dishes, all prepared with high-quality ingredients. The wine list is also extensive, with many options to complement your meal. The staff at The Chart House are known for their exceptional service and are always happy to help create a special evening for you and your loved one. If you're looking for a special and memorable evening with your partner, The Chart House is definitely worth considering.


Plan a Romantic Getaway to Heavenly Resort
From fun adventures, culinary destinations like the Chart House, to unique show experiences at The Loft Theatre, couples will have no trouble finding something to do during every night of their stay at Heavenly Mountain Resort. Find your favorite romantic spots in South Lake Tahoe for your special experiences.