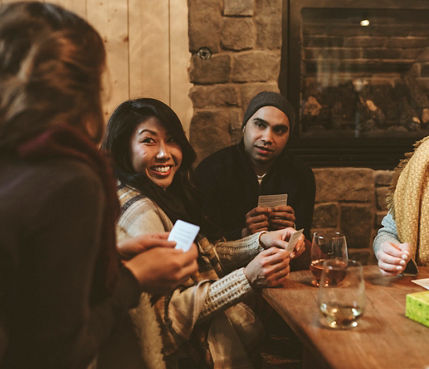 South Lake Tahoe is one of the country's premier vacation destinations, and the nightlife around Heavenly Mountain Resort is no exception. From taverns to elegant lounges, there is something for everyone calling South Lake Tahoe home after dark.

No matter what you're looking for in nightlife in South Lake Tahoe, Heavenly has it all.

Kick Off the Evening with Après Ski at Tamarack Lodge

Although it's earlier in the night, you can't talk about South Lake Tahoe nightlife without mentioning après ski. After a long day of skiing or snowboarding on the slopes, Tamarack Lodge is the perfect place to kick back, relax, and hit the dance floor. They run happy hour specials every day from 3 pm to 5 pm, offering delicious refreshments at discounted prices. With its live DJs and go-go dancers, Tamarack Lodge is an ideal spot to cap off your day and experience après ski in style.

It's located just a few steps from the gondola, making it easy to grab an after-ski drink. Once you're done, hop onto the gondola for an unforgettable journey back down to the base area, surrounded by the breathtaking views of shimmering Lake Tahoe.

German Food and Trivia Nights at Himmel Haus

If you're looking to sample some of the finest German cuisine around, then Himmel Haus is the place for you. With a selection of traditional and creatively re-imagined recipes, this restaurant and bierhaus offers a unique and delightful experience in dining. Enjoy a wide variety of German and Belgian biers and wines as you try out their Bavarian-inspired menu items that have been given a California twist. Whether it be popular staples or exciting new flavors, your taste buds will love what Himmel Haus offers.

Plus, whether you're looking to impress your friends or just have a good time, Wednesday Trivia Nights at Himmel Haus are always a blast. The bar has a wide range of topics suitable for everyone, from science and popular culture to music and random knowledge. Teams of up to six people can have fun playing together, competing with others in the same room to see who is the most knowledgeable. But the best part? First place wins a 2-liter boot of draft bier.

If you're visiting in the fall, get your lederhosen ready for Oktoberfest. Every year Himmel Haus celebrates the fall season with an amazing and fun-filled event. Join them for nightlife in South Lake Tahoe live music, drinking games, and the traditional Miss Oktoberfest Pageant.

Secret Speakeasy at The Social House

Enjoy handcrafted sandwiches, cocktails, non-alcoholic drinks, and live music at The Social House. Or, for something more exclusive, check out their hidden South Lake Tahoe nightlife gem, the Community Speakeasy. Find the secret door and step inside to find a refined and relaxed atmosphere. Sip on delicious cocktails and ask your knowledgeable bartenders about the history behind each drink.

South Lake Tahoe Casinos

If you've ever had the desire to combine skiing with gambling, South Lake Tahoe nightlife offers the perfect opportunity. Located right at the state border of California and Nevada, Lake Tahoe gives skiers the best of both worlds. California is known for its picturesque, log-cabin restaurants, while Nevada provides access to much more lax gambling laws (hello, Vegas!). After an exhilarating day on the slopes, you can take a short stroll on the Nevada side and try your luck at one of many flashy South Lake Tahoe casinos that come alive after sunset.

For those ready to indulge in a new level of gaming, try Hard Rock Casino Lake Tahoe. Boasting a 25,000-square-foot casino floor, there are no limits to playing to win. Discover your inner high roller with the latest technology and state-of-the-art amenities that test your skills.

Harrah's Lake Tahoe sets the standard for 24-hour casino action, and with good reason. It has a wealth of gaming opportunities for all types of players. With 1,300 slot and video poker machines in varying sizes and designs, there is something for every taste. Table games are also plentiful, offering an abundance of options to satisfy even the most discerning gambler.

Catch a Magic Show at The Loft

The Loft Theatre-Lounge-Dining provides an excellent evening for anyone looking for entertainment, food, and drinks. Located in the vibrant Heavenly Village, the award-winning theatre hosts world-class magicians worldwide. Grab some of the executive chef Frank Trotta's handcrafted American Tapas for dinner. Then, it's time to unwind in their full bar lounge and check out their award-winning wine list. Plus, you can join in on their other South Lake Tahoe nightlife activities like trivia nights or dance until late.

Heavenly Outdoor Bonfire

Nightlife in South Lake Tahoe also takes place in the great outdoors. Experience a unique and unforgettable night out by gathering around one of Heavenly's bonfires. Enjoy roasting marshmallows with friends or loved ones, and take in the stunning views of Lake Tahoe while you do it. Pack some drinks and snacks, or even bring your instrument to join in on a night of music and celebration. And don't forget the s'mores.

Looking to ignite your taste buds while you sit around a fire? Stop by California Burger Company for some tasty burger combinations. Feel free to bring the whole family or group of friends and enjoy live entertainment on the outdoor patio, complete with cozy fire pits. There are signature cocktails for those who want something extra special, along with tasty boozy milkshakes that will satisfy any craving.

Heavenly Village Ice Skating

Rejoice in the frost as you glide across the ice with friends, family, and even strangers at Heavenly Village Ice Skating. With skates available for rent for visitors, this recreational activity is sure to bring cheer and fun both day and night with marvelous lights, music, and an atmosphere that perfectly captures the spirit of winter. Plus, if you are interested in booking the ice skating rink privately, whether it be a birthday party or group outing, they offer special packages that can cater to your needs.


Plan Your Heavenly Resort Vacation
Heavenly Resort is the perfect place for skiing enthusiasts, as it offers unbeatable Lake Tahoe views and terrain across the California-Nevada state line. With 4,800 skiable acres, there is plenty of room to explore and ski between the two states. Even if you aren't a skier yourself, South Lake Tahoe has plenty to offer in the way of activities for non-skiers. Plus, with its close vicinity to Reno Airport and various skiing options ranging from relaxed to extreme steeps, there's something for everyone!
Plan your trip
today!