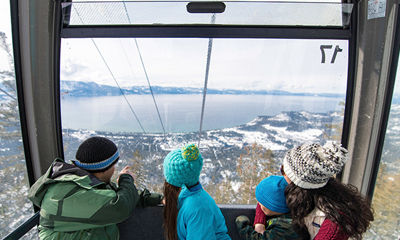 Scenic Gondola Ride
Even if you aren't skiing or riding, you can still experience one of the greatest views of Lake Tahoe with a Scenic Gondola Ride. Get on the Gondola in the Heavenly Village and have your camera ready the 2.4 mile ride will leave you breathless. Stop at the Observation Deck for panoramic views of Lake Tahoe and the surrounding Sierra Nevada mountains.
Tickets are available day of at our Heavenly Village Ticket Office starting Nov. 19th.

Hours of Operation: **Subject to Availability
Monday - Sunday: Ticket Office 9:30am - 5:00pm and Gondola operational hours 10:00am - 4:00pm
2021-2022
Sightseeing Rates
At 3:30pm the Sightseeing Gondola ride is only a ride around (you can not get out at mid-station or the top) and please note the last gondola cabin up is 3:59pm.
Gondola Sightseeing Peak Prices:
Adult: $89
Teen/Senior: $59
Child (5 - 12 yrs.): $47
4 & under ride the Gondola for free
Gondola Sightseeing OFF Peak Prices (non-Holiday):
Adult: $81
Teen/Senior: $54
Child (5 - 12 yrs.): $42
4 & under ride the Gondola for free
*Please note that the Ridge Rider Coaster, UTV Tours and snow tubing are currently closed for the 21.22 Season.
*Bathrooms will be available at Mid-Station, Top of our Gondola and Tamarack Lodge
Sightseeing FAQs
Heavenly' s sightseeing will open Nov. 19th 2021 for sightseeing only. We will have limited availability to operate and availability will be based on skier/snowboarder capacity once we open for skiers and riders.
Tickets will be available to purchase day of at Heavenly Village ticket window.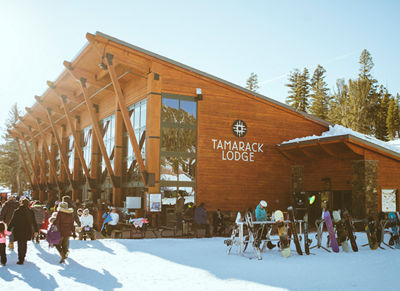 Open 10am - 3pm
Tamarack Lodge
Located at the top of the Gondola, our LEED certified lodge features and grab-n-go snacks, food & beverages.
Please follow all COVID-19 guidelines in Tamarack Lodge:
Proof of full COVID-19 vaccination is required to dine inside
Face covering is required inside
Please limit your time to 45 minutes
Reservations are required to dine inside Tamarack Lodge thru 'Time To Dine'