Prepare for Your Summertime Discoveries
What to Know
We look forward to seeing you this summer!
Location and Hours of Operation:
We're opening Friday, June 18 for summer! And if you can't wait, our scenic gondola will be running for limited time during Memorial Day Weekend, May 28th – 31st.
Office Hours: 10am-4pm PDT
Address: 1001 Heavenly Village Way, South Lake Tahoe, CA 96150
Summer Trail Map
The top of the Gondola is your central hub for all of the activities at Epic Discovery.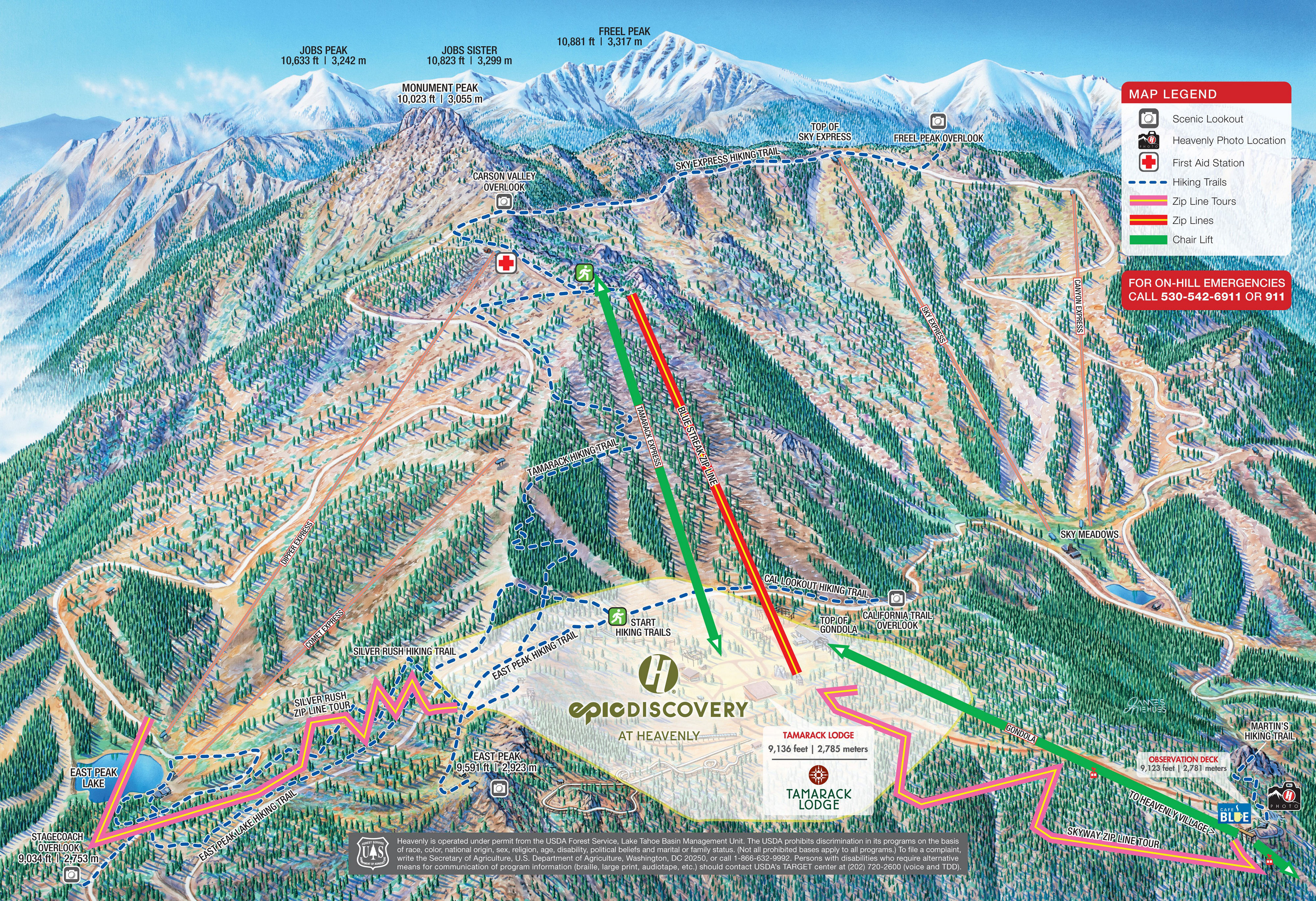 What to Expect While You're Here
Summer in the mountains is now extraordinary, as you can Discover More at Heavenly Mountain. Epic Discovery provides a unique, connected, on-mountain summer experience, immersing you in activities which provide big-time thrills, allowing you to challenge yourself physically, guiding you to explore and better understand your natural surroundings, and ultimately create lifelong memories.
All activities are accessed through the Heavenly Gondola located in the Heavenly Village at 1001 Heavenly Village Way, South Lake Tahoe, CA 96150. And if you are looking for a unique dining experience? Head into Tamarack Lodge located at the top of the Gondola in the center of the summer action. With a full lunch menu and grab-and-go options, it's a perfect hub for your day on the mountain. Treat yourself to locally made ice cream or cool down with a refreshing lemonade!
Additional Info
High Winds
In a high alpine environment, such as Epic Discovery, high winds can cause interruptions and delays in summer activities and lift operations. Lifts and activities may close on occasion due to high winds, causing delays. What may feel like a light breeze down in the village, can oftentimes understate a much different weather pattern at 9,000'+ up on top of the mountain.
Sun Protection
At 10,000 feet, exposure to the sun is 40% greater than it is at sea level. We recommend sunscreen with a sun protection factor of 15 or higher, as well as eye protection.
Lightning and Thunderstorms
Afternoon thunderstorms are common in the mountains and may cause interruptions and delays in summer activities and lift operations. Lifts and activities may close on occasion due to weather conditions, causing delays. Take proper precautions when you see or hear a storm developing: seek shelter, keep off ridge lines, and stay clear of chairlift houses, lift towers, power lines, open spaces, lone trees, and signposts.
High-Altitude Environment
If you live at a lower elevation, you may tire more easily. Take it easy at first, plan short trips until you are acclimated and drink plenty of water. Some visitors may experience symptoms associated with Heavenly's high altitude. Symptoms may include headaches, nausea, and dizziness, loss of appetite, restless sleep, coughing and difficulty in breathing. If symptoms persist or if you have a concern about your health, you should seek medical attention.
Adequate Clothing
Be aware, mountain weather changes quickly and there is usually at least a 10-degree temperature difference from the bottom to the top of the lifts. Bring a raincoat and consider a sweater or fleece layer. Wear closed-toed athletic shoes, such as hiking boots or tennis shoes. Hair ties are suggested for shoulder length hair or longer.
Health and Safety Guidelines
If you are pregnant or have heart, back/neck or other serious health issues, you should consult a physician prior to participating in any activity. Most activities require guests to be ambulatory and be able to walk on their own. Trained service animals are welcome in most locations at Heavenly Mountain Resort. Although trained service animals are welcome, guests who use service animals must retain control of their animals at all times and should keep them on a leash or harness while visiting. Documenting your vacation is always encouraged; however Selfie Sticks are prohibited on our activities.
Pass Discounts
With the purchase of your 2021-2022 Winter Season Pass, you have unlimited free summer Scenic Gondola Ride access and a special discount on Activity Passes! *Activities Pass must be purchased in person at the bottom of The Gondola.
Rain Check Policy
All lift tickets and activities are non-transferable. Lift and activity packages are non-refundable once activated, but may be exchanged for alternate products or cancelled prior to use. Additional days and activities purchased at the ticket window will be charged the window rate. Lift ticket and activity prices are subject to change at any time without notice. Any adjustments made at the resort are based on the window rate at the resort on the day of adjustment.
Gondola and activity passes may be picked up at the ticket office in Heavenly Village at 4080 Lake Tahoe Blvd, South Lake Tahoe, CA 96150.