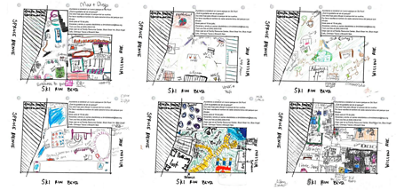 Giving back to our community is a cornerstone of the work that we do as a company. It is important to all of us here at Heavenly that we support projects that improve the day-to-day lives of those that live and work in South Lake Tahoe.
The Ski Run neighborhood is very close to home both literally and figuratively – it's steps away from our resort. Supporting this neighborhood is something that is meaningful to us – and the creation of a park for the area's residents (especially its children) is a mission that we are passionate about. Creating a space of safety and fun, with meaning to the community, and to our own team members, is important, and we're proud to support its creation, led by Friends of Ski Run. We're proud to provide a $75,000 donation through EpicPromise,as well as new benches (made from repurposed North Bowl chairs), and educational signage created by our sign shop. The Tahoe Fund is also matching donations up to an additional $75,000.
The Tahoe Fund's news release shares some powerful details, including this one:
"According to the Trust for Public Land, 100 million people in America—including 28 million kids—don't have a park within a 10-minute walk of home. In the Ski Run neighborhood of South Lake Tahoe, these aren't just statistics, they are the lived experience of more than 4,000 residents, 55 percent of whom are Hispanic/Latino."
This makes the creation of this space even more urgent, and critical. Tahoe is full of amazing outdoor recreation, but having neighborhood parks within walking distance is a game-changer in the lives of children and families. Please support the project if you can via this link.
Vail Resorts EpicPromise is how the company embodies its foundational value – Do Good. By supporting the health of our communities through local grants and employee volunteering, the wellbeing and development of our team members through the EpicPromise Foundation, and the resilience of the environment and global climate through our bold Commitment to Zero, EpicPromise helps create a more promising future for generations to come.
We are proud to come together as one mountain community, and can't wait to see this project come to life as we know the great impact it will have on the neighborhood!