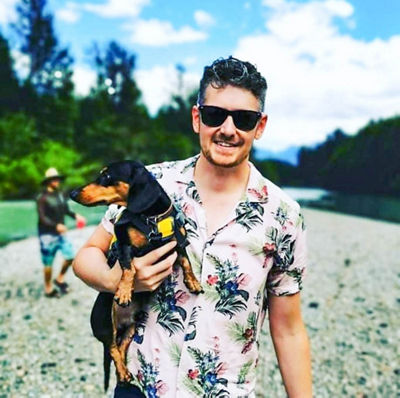 Team Member Spotlight/Q&A:
Q: Hi Stephen! Can you tell us a little bit about your role at Heavenly, and how long you've been here?
I moved to South Lake Tahoe near the end of January, 2022 from Whistler Blackcomb, Canada. This role was interesting to me, and I saw it as an opportunity to grow as a leader and learn more about other resorts and departments, too.
I am currently the Senior Manager of our Adventure Center. I oversee the activities operations in both Winter and Summer. I am also the Senior Leadership Team sponsor for our Employee Experience Street Team, Diversity, Equity & Inclusion leadership committee, a Work Force Management resort champion, Moments that Matter committee member, and co-creator of Heavenly's Here and Queer coffee hour. The AP Senior Manager role is both challenging and rewarding, and I'm really excited to be part of these other impactful groups, too.
Q: What inspired your career path?
I have been working in the industry for the last 20 years, and worked in a seasonal winter role as a Snow School leader at Whistler Blackcomb for 19 of those years. I took on a summer role as a child daycare worker where I grew the daycare into a summer adventure camp for kids. It was this summer work that sparked my interest in summer activities more broadly. I saw a lot of opportunities in the summer season and started work on a business plan for Whistler Blackcomb – ultimately, my work in this space brought me to Heavenly. I was so impressed with what had been built here that I kept my eye on this resort and its operations.
When the pandemic hit and it was very hard on me, my family and my career. I thought to myself, I could let these challenges break me...or, I could take charge of my life and seek out opportunities. That's when I saw the position of Senior Manager of Adventure Peak at Heavenly. It was the perfect opportunity for me, and felt meant to be. Now, I'm part of an amazing team, in one of the most beautiful places I have been, starting this new chapter of my career journey.
Q: What are some of the responsibilities you have that might surprise people?
Adventure Peak operations is a revenue generating department as well as an operational department. We have front-line recreation staff, as well as a maintenance team. I work with pricing, guest service, inspections, safety, maintenance and much more. Adventure Peak is in a rebuild phase where many of our activities are being brought back to life after a long time sitting unused due to the pandemic. This brings a lot of challenges to the job, including repairs (predicted and unforeseen), and inspections...and that's just the start! Re-training of staff and leaders is also a large undertaking, but one I am passionate about. Within this work, I see so much opportunity for growth, development and restructuring of the Adventure Peak operations. It's definitely exciting.
Q: What are the various roles your team members have? What would surprise guests about what goes on behind the scenes with summer operations?
Our roles at Adventure Peak are so dynamic. Our activities are so different that each role has its own training process. Team members are creating animated stories with guests at Gem Panning, as well as harnessing and sending our guests down ziplines. There are moments of rescue and also encouragement when guests are too scared to continue on an activity – it's really rewarding to help them through those moments. There is also manual labor needed to operate and repair activities on the fly, and we are always prioritizing safety, so we are constantly ready for these situations. There are hours of preparation, safety tracking and inspections, alongside other unpredictable factors like weather. The name of the game is flexibility, and always being over-prepared – our team does all of this while focusing on making sure our guests feel relaxed, happy, safe and excited.
Q: What do you love most about your job? And about Heavenly?
I love the challenge of my job. I love the business side and the development opportunities for our organization. I love that we are building memories for our guests and employees every single day. To me, Heavenly has a perfect name as it describes the feeling of being at our resort and on our mountain. I feel truly lucky to be here.
Q: What unique or special skills are needed to do your job?
The most special skill is the ability to change and adapt when needed. Activities is an ever-changing environment and you need the skill to mold with that environment. You need the ability to develop yourself so that you are prepared to champion any change that comes your way. No day is the same, and that is one of the most exciting parts of the job!
Q: What's one thing you wish guests knew about summer operations Heavenly?
To join us early in the day – a great window is between 10am and 12pm, when things are getting started, it's not too hot, and weather events that pause or halt operations for safety reasons are less likely.
Q: What or who inspires you most?
People inspire me! I love connecting with our employees and guests and learning about their lives. I am always inspired to hear where people come from and what their goals are. I love seeing our team members grow in their roles, taking on new challenges and ultimately moving into leadership positions. I am also inspired by my leaders and friends – these are the people I surround myself with, and they make me the person I am (and who I strive to be).
Q: What's your favorite summer activity at Heavenly?
So far, it's definitely the Ridge Rider Mountain Coaster and Gem Panning... both are so special. One is so exciting and thrilling and the other is animated and gives you a souvenir to bring back home. I am very much looking forward to experiencing other activities as we expand our operations!
Q: Anything else you want to share?
I am so happy to be working at Heavenly and with this truly amazing team. In the six months I have been here, this team has supported me and made me feel like I belong. The Heavenly team has made me feel welcome in this community, and I now have a new place to call home. I am looking forward to my future here as part of this mountain team, and as a member of the South Lake Tahoe community, too!