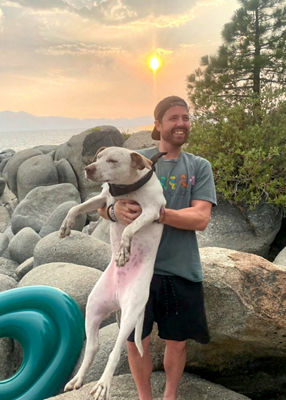 Team Member Spotlight/Q&A: Stefan Watkins
Q: Hi Stefan! Can you tell us a little bit about your role at Heavenly, and how long you've been here?
A:
Hi everyone, I am the Base Area Operations Manager here at Heavenly. I oversee three departments including snow removal, transportation, and parking. We have operations at all four of our base areas including California, Boulder, Stagecoach, and Heavenly Village.
Q: What inspired your career path?
A:
I have been involved in skateboarding since I was 13 years old, so going into a career where I could be surrounded by board sports was a no brainer for me. I started my career with Vail Resorts in Breckenridge as a snowboard instructor and completed three winter seasons there. After I moved to South Lake Tahoe, I worked as a zipline tour guide, a shuttle driver, assisted in the uniform room, became Transportation Supervisor, and now Base Operations Manager. No matter what role I have been in, the desire to learn and grow in my personal and professional life has always been at the top of my totem pole.

Q: What are some of the responsibilities you have that might surprise people?

A:
Beyond our day-to-day operations, my role includes overseeing environmental compliance at our base areas. This includes monitoring the amount of salt and sand that is dispersed in the basin, monitoring our water treatment system, and ensuring our contractors follow required guidelines. We also work closely with different government agencies to keep the quality of the water that comes off the mountain safe for Tahoe clarity.
Q: How do those responsibilities change as the resort shifts into Summer?
A:
In the winter I have employees in three different departments. Summer operations consists of just one department. We have transportation services for Lakeland Village and provide transportation for shuttle guests at Lakeview Lodge. The majority of my time is spent planning projects including getting prepared for next winter's operations, sprucing up parking lots (painting, sealing, managing plow damage, etc.) and environmental compliance.
Q: What do you love most about your job? And about Heavenly?
A:
Being able to be a part of this team that cares so much about the experience we provide, the memories we make, and the lives we change.
Alone we can do so little; together we can do so much.
Q: What or who inspires you most?
A:
My mother. She approaches every challenge with a positive attitude and unprecedented work ethic and that is what drives me each and every day.
Q: What was your favorite part of this ski and ride season?
A:
With as much snow as we had, we without a doubt had a very dynamic winter. That amount of snow brought some of the best days I have ever had on the mountain. Thank you, Ullr and Mother Nature!
Q: What was it like to experience this historic winter for you both at the job and at home?
A:
Overseeing snow removal operations was definitely a challenge this year. Shoveling your driveway to get to work, shoveling and removing snow AT work, and then shoveling out the berms to get back in my driveway was a physical feat to say the least.
Q: Do you have a favorite run at Heavenly?
A:
Firebreak on the front side of the Gondola. Raley's bowl was all time this season!